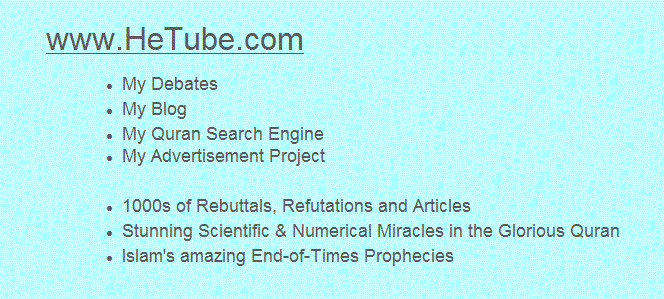 Q4: How is it that Muslims believe that Jesus is Christ but they don't believe in atonement?
This article is now located at: Did Isaiah 53 really prophecies Jesus' crucifixion? Isaiah 53 perfectly agrees with Islam's claims regarding Jesus peace be upon him never died on the cross and he was lifted to Allah Almighty. I also exposed the intentional mistranslation of Isaiah 53:9 to hopelessly try to prove the dogma of trinity.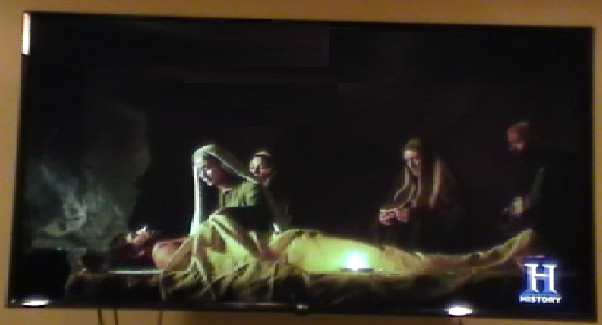 Click to play video [1]. Matthew 12:40: "shall be buried deep in the heart of
earth for 3 days and nights as Jonah was deep in the belly of the whale."
This Prophecy is a lie! Jesus laid on the floor, got healed, and got up and
left. He was never inside any coffin nor ever got buried. Also, because 100s
of thousands of pilgrims were coming to Jerusalem for the Passover, the
Romans had to rush his "crucifixion" and bring him down. The soldiers were
even denied food due to lack of time.

Jesus never got crucified: [
1] [2] [3] [4]. The OT and NT clearly spell it out. He was saved.
Back to Ask me any question page.
Deuteronomy 4:2 clearly declares that the Bible is corrupt! Also, which "Book" is the People of the Book?
The best way to convert a non-Muslim to Islam? Covers the Hijacked Bible in great details.
Also Visit:
Note to Muslims:
As Muslims, we must be very careful when we comment on the previous Scriptures, because there is always a possibility that there might be Divine Revelations parts in the verses that we might be objecting to. I know that the many of the disbelievers constantly insult and mock Islam all the time, and even lie on their own Scriptures with their "End of Times Prophecies" lies, -where they hijacked even the Bible with their bigotry, hate and lies, - but still dear brothers and sisters in Islam, we must always be very careful when we deal with previous Scriptures, because as Muslims we do believe that they do contain remnants of Divine Revelations in them. May Allah Almighty forgive me, and forgive all sincere Muslims, for any and all mistakes and errors that we may have fell into. Ameen.
See also: Islam's end of times STUNNING Prophecies section.

Zionist Israel will rule the earth with Mighty Evil! (Islamic Prophecy)

The Glorious Quran declared 1,400 years ago that the Israeli Zionist machine will rule the entire earth with mighty evil and power. They will reach "Mighty Heights" علوا كبيرا of evil power and might on earth. See Noble Verses 17:4-8:

Also, Prophet Muhammad, peace and blessings be upon him, made a stunning prophecy about the one-eyed anti-Christ who will rule the infidels and the world: Narrated Ibn Umar: "Once Allah's Apostle stood amongst the people, glorified and praised Allah as He deserved and then mentioned the Dajjal (anti-Christ) saying, "l warn you against him (i.e. the Dajjal) and there was no prophet but warned his nation against him. No doubt, Noah warned his nation against him but I tell you about him something of which no prophet told his nation before me. You should know that he is one-eyed, and Allah is not one-eyed." (Translation of Sahih Bukhari, Volume 4, Book 55, Number 553)" Prophet Muhammad had many visions about the dajjal, and gave many signs about him. Some of the things the Prophet said about the dajjal were literal, and some were vision-metaphors. The most prominent one is that he will be one-eyed. This is both literal and metaphoric. It is literal today because the zionist anti-Christ system is indeed represented by the ONE-EYE symbol as seen in the following images. The metaphors here are Allah Almighty not being ONE-EYED, because nothing can describe Allah Almighty. There is "none like unto Him" (Quran, 112:4). In other words also, the Prophet warned that this ONE-EYED SATANIC system will be a worshiped deity. And that false deity is not Allah Almighty. For ample more details and proofs, please visit link below.

Was the Islamic ONE-EYE Prophecy foretold before Islam in the Bible's Zechariah 11:17? I demonstrated using ample Biblical verses that the ONE-EYED DAJJAL (anti-Christ) was never prophesied in the Bible to be ONE-EYED, nor was this Sign ever given in the Bible to any being. For ample Noble Verses and Hadiths (Sayings of the Prophet), and proofs, please visit: Many references of this Hadith (Saying) exist throughout our Islamic Texts. This is one of the most popular Hadiths and Prophecies of Prophet Muhammad, peace be upon him. And indeed, we are seeing it come to pass before our very eyes. Please also visit:
---