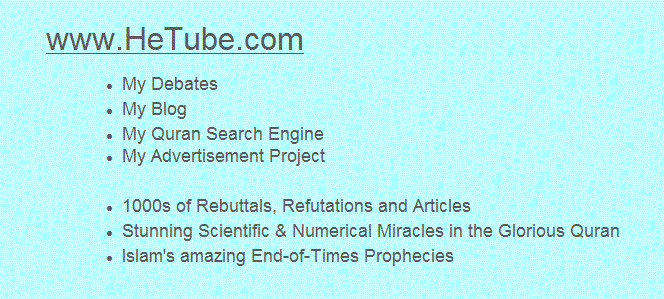 Search Results:

Parameter: Volume 8, Book 82, Number 816

Search Type: Exact String

There are four Hadith Volumes used in this Search Engine: (1) Sahih Bukhari; (2) Shahih Muslim; (3) Qudsi Hadiths; and (4) Sunan Abu Dawud.

Special thanks for the brothers at the MSA-USC's team for translating and typing up the Hadiths and making them available for everyone to use. May Allah Almighty always be pleased with them, and shower them with His Holy Blessings. Ameen. Their email addresses in case you wish to contact them are as follows:

The following brothers are the known translators:

M. Muhsin Khan - Translator of Sahih Bukhari.
Abdul Hamid Siddiqui - Translator of Sahih Muslim.
Prof. Ahmad Hasan - Translator of Sunan Abu Dawud.

Sahih Bukhari Search Results:

SAHIH BUKHARI, BOOK 82: Punishment of Disbelievers at War with Allah and His Apostle
---
Volume 8, Book 82, Number 816:
Narrated Ibn 'Abbas:

'Umar said, "I am afraid that after a long time has passed, people may say, "We do not find the Verses of the Rajam (stoning to death) in the Holy Book," and consequently they may go astray by leaving an obligation that Allah has revealed. Lo! I confirm that the penalty of Rajam be inflicted on him who commits illegal sexual intercourse, if he is already married and the crime is proved by witnesses or pregnancy or confession." Sufyan added, "I have memorized this narration in this way." 'Umar added, "Surely Allah's Apostle carried out the penalty of Rajam, and so did we after him."
Sahih Muslim Search Results:
Qudsi Hadiths Search Results:
Sunan Abu Dawud Search Results:
---
Number of Hadiths returned: 1
Back to: Hadiths Search Page.
Back to: www.answering-christianity.com