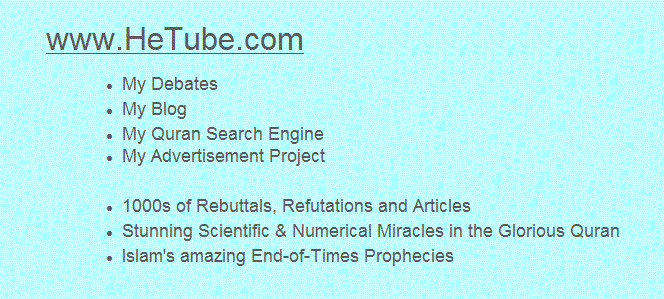 Search Results:

Parameter: jokingly or seriously

Search Type: Exact String

There are four Hadith Volumes used in this Search Engine: (1) Sahih Bukhari; (2) Shahih Muslim; (3) Qudsi Hadiths; and (4) Sunan Abu Dawud.

Special thanks for the brothers at the MSA-USC's team for translating and typing up the Hadiths and making them available for everyone to use. May Allah Almighty always be pleased with them, and shower them with His Holy Blessings. Ameen. Their email addresses in case you wish to contact them are as follows:

The following brothers are the known translators:

M. Muhsin Khan - Translator of Sahih Bukhari.
Abdul Hamid Siddiqui - Translator of Sahih Muslim.
Prof. Ahmad Hasan - Translator of Sunan Abu Dawud.

Sahih Bukhari Search Results:

SAHIH BUKHARI, BOOK 75: Invocations
---
Volume 8, Book 75, Number 408:
Narrated Abu Musa Al-Ash'ari:

The Prophet used to invoke Allah, saying, "Allahumma ighfirli khati'ati wa jahli wa israfi fi amri, wa ma anta a-'lamu bihi minni. Allahumma ighfirli hazali wa jiddi wa khata'i wa amdi, wa kullu dhalika 'indi"

WHICH READS IN ENGLISH AS:

"O Allah! Forgive my mistakes and my ignorance and my exceeding the limit (boundaries) of righteousness in my deeds; and forgive whatever You know better than I. O Allah! Forgive the wrong I have done jokingly or seriously, and forgive my accidental and intentional errors, all that is present in me."
Sahih Muslim Search Results:
Qudsi Hadiths Search Results:
Sunan Abu Dawud Search Results:
---
Number of Hadiths returned: 1
Back to: Hadiths Search Page.
Back to: www.answering-christianity.com