Has Jesus been prophesied in the OT?
When one reads the Christian Bible, one wonders whether Jesus even existed. Everything in the Gospels is written by third people, nothing is spoken by God and nothing by Jesus.
80% of the words of Jesus are not his own. The present Christian books were written 150 - 300 years after Jesus.
The Bible does not prove the existence of Jesus. How can one accept that Jesus did exist?  We need proof and one proof would be his mentioning in the Old Testament. But sadly for Christians, this is not the case. Jesus of Christians is nowhere mentioned in the Old Testament.
Below you will find point by point quotations by Christians and their replies.
1.  Micah 5,
Verse 2 "But thou, Bethlehem Ephratah, though thou be little among the thousands of Judah, yet out of thee shall he come forth unto me that is to be ruler in Israel."
Does this prove anything?
First Chron. 4:4
"These are the sons of Hur, the firstborn of Ephratah, the father of Bethleham."
Bethleham and Ephratah are human beings and they are not the ancestors of Jesus. This is not mentioned anywhere in the New Testaments. Millions of people are born in Bethleham, the city, and anyone can claim to be the Messiah. Also, Jesus never ruled Israel.
Micah 5:4
"And they shall dwell secure, for now he shall be great to the ends of the earth."
This verse says that the Messiah will bring peace to the earth, Jesus never did that and he says that he is not come to bring peace in Matt. 10:34.
Micah 5:6
"...thus shall he deliver us from the Assyrian when he cometh into our land,...."
This verse proves that it is not talking about Jesus at all.
2

.

 

Isaiah 7:14,

"Behold a virgin shall conceive and bear a son, and shall call his name Immanuel"

This is answered here;

https://www.answering-christianity.com/adeel_khan/isaiah_7.htm

3.  Psalm 22:1

"my God, my God why hast thou forsaken me? Why art thou so far from helping me, and from the words of my roaring"

This is answered here;

https://www.answering-christianity.com/yahya_ahmed/who_was_on_the_cross.htm

4.  Christians also quote Isaiah 52 to make their claim that it refers to Jesus.

Below are a few sentences from this chapter about the man being discussed:
Behold, my servant shall prosper

He shall be exalted and extolled, and be very high

He is despised and rejected of men

…the kings shall shut their mouths because of him

For he shall grow up

He is despised and rejected of men

A man of sorrows with grief

He was oppressed,...yet he opened not is mouth:...so he

openeth

not his mouth

Cut off out of the land of the living

This is the heritage of the servants of the Lord
Please note: The above description of a man whom the Christians claim to be Jesus does not suit him in any way. Jesus of the Bible did not prosper, nor was he very high and no king was silenced by him.
The above description does suit the Jesus of Islam. He has a very high status and is hated by Christians and non-Muslims as mentioned in the prophecy.
The prophecy also states that he is the servant of the Lord and not God.
Behold! Allah said: "O Jesus! I will take thee and raise thee to Myself and clear thee (of the falsehoods) of those who blaspheme; I will make those who follow thee superior to those who reject faith, to the Day of Resurrection: Then shall ye all return unto me, and I will judge between you of the matters wherein ye dispute.
(Quran 3:55)
These links describe it in detail;
https://www.answering-christianity.com/psalm_91.htm
https://www.answering-christianity.com/isaiah_53.htm
5.  Is Jesus foretold in Isaiah 42?
https://www.answering-christianity.com/isaiah.htm
https://www.answering-christianity.com/isaiah_42.htm
Isaiah 42 describes Prophet Muhammad (s) and not Prophet Jesus (pbuh).
6.  Deuteronomy 21 talks about a man being killed by hanging on a tree. The New Testament has many versions on this. Some stories say that Jesus was on a tree and some say that he died on the cross. Some errors and contradictions are present in the New Testament but they are answered by "The Apocalypse of Peter".
https://www.answering-christianity.com/nt_confirms_apocalypse_of_peter.htm
7.  Isaiah's vision about a man riding a donkey can be copied by anyone. We all know that Jesus was well versed in the Old Testament books; he (Jesus of the Bible) could have easily copied it from the book. Riding a donkey can be done by almost anyone.
8.  Genesis 22 talks about the seed of Abraham being blessed and made into a great nation.
This is also mentioned by Jesus;
https://www.answering-christianity.com/god_kingdom.htm
This does not make Jesus qualify for this prophecy.
9.  Exodus 12 talks about a lamb which is claimed to be Jesus but if we look at verse 5, we see that an actual lamb is being discussed and not a human being.
Your lamb shall be without blemish, a male of the 1st year: ye shall take it out from the sheep or the goats
Exodus 12:5
10.  2 SAM. 7 also does not talk about Jesus as Christians claim.
Verses 12 and 13 say,
I will set up thy seed after thee, which shall proceed out of thy bowels, and I will establish his kingdom. He shall build a house for my name, and I will establish the throne of his kingdom for ever.
Can anyone explain this to me how this refers to Jesus?
Verse 14 says…
If he commit iniquity, I will chasten him with the rod of man, and with the stripes of the children of men.
11.  Christians argue that 1 CHRON. 17 prophesies about Jesus.
Verses 11 and 12 read as follows,
And it shall come to pass, when thy days be expired that thou must go to be with thy fathers, that I will raise up thy seed after thee, which shall be of thy sons....
This verse is talking about a man who is a son of David and will come before his days will be expired. So this cannot be Jesus in any way.
12.  Psalm 34
Verse 20
He keepeth all his bones; not one of them is broken
John 19:33
"...they brake not his legs"
This indicates that the man being talked here is Jesus but is he really? Lets look at verse 4 of this chapter.
"I sought the Lord, and he heard me, and delivered me from all my fears".
How can this be Jesus as the New Testament tells us that Jesus cried out, "My God! My God! Why have you forsaken me?
13.  The prophecies in Psalm 2,
These are very easy and need no explanation. Just read verse 2 and you need no further discussion on this.
1 Why do the heathen rage, and the people imagine a vain thing?
2.  The kings of the earth set themselves, and the rulers take counsel together against the Lord, and against his anointed, saying"
As far as the New Testament is concerned, only Jews and a few Roman soldiers were behind the murder of Jesus. Pilate had feelings of respect for Jesus. No king ever knew about Jesus. The Jews were behind the murder of Jesus of the Bible, so who are the heathens mentioned here? Take whichever meaning you want, the Jews were not heathen.
Verse 9,
You will rule them with an iron scepter;
you will dash them to pieces like pottery."
If this is talking about Jesus of the Bible, then how do Christians claim him to be a prince of peace?
14.  Psalm 21,
1 The king shall joy in thy strength, O LORD; and in thy salvation how greatly shall he rejoice!
2 Thou hast given him his heart's desire, and hast not withholden the request of his lips. Selah.
3 For thou preventest him with the blessings of goodness: thou settest a crown of pure gold on his head.
4 He asked life of thee, and thou gavest it him, even length of days for ever and ever.
5 His glory is great through thy help; splendor and majesty thou dost bestow upon him
Verse 3 talks about crown of gold which was never given to Jesus. If it is a figurative term, then how does one explain verse 4? This says that he is given life when he asked for it. This chapter is talking about the real Jesus, the Muslim.
Maybe this answers the question;
https://www.answering-christianity.com/hebrews5_7.htm
Verse 5 says that glory is given to him by God. Jesus has a God.
These verses also do not prophecy of the Jesus of the Bible.
15.  Psalm 27,
It is claimed that the trial of Jesus is being referred to here. It does appear to be but lets see it in detail with other verses,
Verse 2
When evil men advance against me
to devour my flesh,
when my enemies and my foes attack me,
they will stumble and fall.
This verse clearly shows that the enemies of Jesus would be unsuccessful against him, i.e. they would be unable to kill him.
Verse 5,
For in the day of trouble he will keep me safe in his dwelling;
9 "...leave me not, neither forsake me, O God of my salvation".
If this is Jesus of the Bible, then explain this, My God! My God! Why have you forsaken me?
10 Though father and my mother forsake me, the Lord will take me up
Verse 12 says,
Deliver me not over unto the will of mine enemies; for false witnesses are risen up against me, and such as breathe out cruelty.
If this refers to Jesus, then it must refer to some other Jesus than the Jesus of the Bible because these words show that the man doesn't want to die unlike the Christian Jesus who is claimed to give his life willingly. It also says that the Lord will take him up just what the Muslims (Isaiah 56:5: the future believers' name. Sons and daughters titles will be "no more") say about Jesus.
16.  Psalm 30,
1 I will exalt you, O LORD, for you lifted me out of the depths and did not let my enemies gloat over me.
2 O LORD my God, I called to you for help and you healed me.
The healing is not a physical healing but a spiritual one. If Christians claim this to be a prophecy of Jesus, then it is a prophecy of the Jesus of Islam, as the enemies did not do anything to Jesus.
Notice the word "enemy". Jesus does not like them so how can he die for them?
17.  Psalm 31,
1 In you, O LORD, I have taken refuge; let me never be put to shame; deliver me in your righteousness.
2 Turn your ear to me, come quickly to my rescue; be my rock of refuge, a strong fortress to save me.
3 Since you are my rock and my fortress, for the sake of your name lead and guide me.
4 Free me from the trap that is set for me, for you are my refuge.
8 You have not handed me over to the enemy but have set my feet in a spacious place.
Christians also claim that Psalm 31 is a prophecy of Jesus. If it is so, then it is the prophecy of the Jesus of Islam who doesn't want to die on the cross and who was saved by God.
18.  Psalm 34,
4 I sought the LORD, and he answered me; he delivered me from all my fears.
6 This poor man called, and the LORD heard him; he saved him out of all his troubles.
Once again, this does not describe the Jesus of the Bible in any way. It only describes the Jesus of Islam, the only Jesus.
19.  PSALMS 35
1 Contend, O LORD, with those who contend with me; fight against those who fight against me.
2 Take up shield and buckler;  arise and come to my aid.
The man being discussed is talking about rescuing him and punishing the enemies. This can never be the fictitious Jesus of the Bible.
20.  PSALM 38
18 I confess my iniquity; I am troubled by my sin.
21 O LORD, do not forsake me; be not far from me, O my God.
22 Come quickly to help me, O Lord my Savior.
This man says that he has sinned. Has Christian god sinned?
21.  PSALM 40,
1 I waited patiently for the LORD; he turned to me and heard my cry.
2 He lifted me out of the slimy pit, out of the mud and mire; he set my feet on a rock and gave me a firm place to stand.
3 He put a new song in my mouth, a hymn of praise to our God. Many will see and fear and put their trust in the LORD.
4 Blessed is the man who makes the LORD his trust, who does not look to the proud, to those who turn aside to false gods.
5 Many, O LORD my God, are the wonders you have done. The things you planned for us no one can recount to you; were I to speak and tell of them, they would be too many to declare.
These are just great verses filled with much truth. Verse 1 and 2 talk about the man being saved.
Note: the mud, mire, slimy pit and the rock are not literal words here. The slimy pit is the trap to crucify and mud is where he would have sinked if God hadn't saved him. Rock describes a solid position.
False gods of the Christians are being prophesied here as well.
Many are the wonders to this, i.e. the Muslims (Isaiah 56:5: the future believers' name. Sons and daughters titles will be "no more").
22.  PSALM 41,
2 The LORD will protect him and preserve his life; he will bless him in the land and not surrender him to the desire of his foes.
3 The LORD will sustain him on his sickbed and restore him from his bed of illness.
5 My enemies say of me in malice, "When will he die and his name perish?"
A prophecy of Judas.
9 Even my close friend, whom I trusted, he who shared my bread, has lifted up his heel against me.
23.  PSALM 55,
1 Listen to my prayer, O God, do not ignore my plea;
2 hear me and answer me. My thoughts trouble me and I am distraught
3 at the voice of the enemy, at the stares of the wicked; for they bring down suffering upon me and revile me in their anger.
4 My heart is in anguish within me; the terrors of death assail me.
5 Fear and trembling have beset me; horror has overwhelmed me.
6 I said, "Oh, that I had the wings of a dove! I would fly away and be at rest-
24.  PSALM 69,
1Save me, O God; for the waters are come in unto my soul.
No need to read further, this verse proves that Jesus of the Bible is not being prophesied here.
25.  PSALM 72,
1Give the king thy judgments, O God, and thy righteousness unto the king's son.
2He shall judge thy people with righteousness, and thy poor with judgment.
3The mountains shall bring peace to the people, and the little hills, by righteousness.
4He shall judge the poor of the people, he shall save the children of the needy, and shall break in pieces the oppressor.
5They shall fear thee as long as the sun and moon endure, throughout all generations.
6He shall come down like rain upon the mown grass: as showers that water the earth.
7In his days shall the righteous flourish; and abundance of peace so long as the moon endureth.
None of the above ever happened to Jesus, he did not fill the earth with peace at all.
26.  PSALM 88,
1O lord God of my salvation, I have cried day and night before thee:
2Let my prayer come before thee: incline thine ear unto my cry;
3For my soul is full of troubles: and my life draweth nigh unto the grave.
This man also does not want to die, then how can it be the Jesus of the Bible?
27.  PSALM 89,
18For the LORD is our defence; and the Holy One of Israel is our king.
19Then thou spakest in vision to thy holy one, and saidst, I have laid help upon one that is mighty; I have exalted one chosen out of the people.
20I have found David my servant; with my holy oil have I anointed him:
21With whom my hand shall be established: mine arm also shall strengthen him.
22The enemy shall not exact upon him; nor the son of wickedness afflict him.
23And I will beat down his foes before his face, and plague them that hate him.
Once again it is mentioned that this man will be saved by God from his enemies. If this is Jesus of the Bible, then how and why is he saved?
28.  PSALM 109,
2For the mouth of the wicked and the mouth of the deceitful are opened against me: they have spoken against me with a lying tongue.
3They compassed me about also with words of hatred; and fought against me without a cause.
4For my love they are my adversaries: but I give myself unto prayer.
5And they have rewarded me evil for good, and hatred for my love.
6Set thou a wicked man over him: and let Satan stand at his right hand.
Here is a prayer by the man being mentioned in this chapter. See, verse 6, it says that let Satan be with him. This shows that the man prayed for Satan to be with the ones after him. Satan is with the believers of crucifixion.
29.  PSALM 110,
1The LORD said unto my Lord (Jesus), Sit thou at my right hand, until I make thine enemies thy footstool.
Note: The word for Jesus is not the same Lord as for God. Many human being are referred to as Lord in the Bible.
This verse shows that Jesus of Islam has been taken up by God where he is waiting to come back when the Romans will be at Jesus' feet. There is a prophecy of Prophet Muhammad (s) which sates that the Muslims (Isaiah 56:5: the future believers' name. Sons and daughters titles will be "no more") will conquer Rome. This verse shows that Jesus of Islam will return sometime then. Once again, this cannot be applied to the fictitious Christian Jesus.
30.  PSALM 118,
5I called upon the LORD in distress: the LORD answered me, and set me in a large place.
6The LORD is on my side; I will not fear: what can man do unto me?
This chapter is also talking about a man in distress who is saved by God and placed in a large place (heaven?)
31.  PROV. 30,
4 Who has gone up to heaven and come down?
Who has gathered up the wind in the hollow of his hands?…
5 "Every word of God is flawless;
he is a shield to those who take refuge in him.
6 Do not add to his words,
or he will rebuke you and prove you a liar.
If this is referring to Jesus, then he is talking about the Christians who have added to his words. Jesus will prove them to be a liar when he returns.
The disciples arguing about the Sabbath and other Laws. Jesus promised them that the Holy Spirit will take over their mouths and that there will be no arguments, confusions or riddles. Yet, the NT is marred with open arguments, vilifications (calling each other cursed by GOD "anathema", satanic, false, wrong). Where is Jesus' promise?? Totally a false promise!

- Where is Jesus' promise??
- He promised that the Holy Spirit will take over their mouths, guide them in all ways, and that it will be the Holy Spirit speaking, not them.
- They ended up splitting into Paul vs. Peter two opposing groups, and were at odds with each other on several theological issues.
- Their differences remain unsettled till this day in the NT. They were never resolved.
- They were barking at each other like rabid dogs calling each other cursed, false, liar, satanic! [1] Their books didn't even exist for the first 200 to 300 years, says most Bibles theologians. They are very highly corrupted.
Where was the Holy Spirit in all of this?
Remember:
Matthew 7:22-23: GOD sent Jesus to be Christianity's lying spirit
Dismal Spiritual Failures:
Let us examine the following:
Romans 3:23 ESV
For all have sinned and fall short of the glory of God,

Ecclesiastes 7:20 ESV
Surely there is not a righteous man on earth who does good and never sins.
No man is sinless and faultless. The NT even says Jesus himself sinned via coveting the sins of the world. Paul then barfs the following gem:
1 Corinthians 2:15
"The spiritual man makes judgments about all things, but he himself is not subject to any man's judgment."
How???
How can any flesh and blood sinner not be subjected to judgment? The world has seen how disastrous your pedophilic and corrupt priests, ministers and churches are, from sex abuse on children, theft, prostitution and so much more. Ironically also, Paul and the disciples themselves dismally failed this standard when they turned into rabid dogs in harsh judgments on each other; calling each other cursed, false, liar, satanic! [1] Their books didn't even exist for the first 200 to 300 years, says most Bibles theologians. They are very highly corrupted. There is also conflict regarding misogyny:
Paul proves the book of Revelation is a forgery; a book of misogyny.
Which book were the people of the Book reciting (فسأل الذين يقرؤون الكتاب) during Prophet Muhammad's days according to the Glorious Quran 10:94?

Insufficient Jesus:
Edward Dalcour says that Jesus would be insufficient if Paul was proven to be false: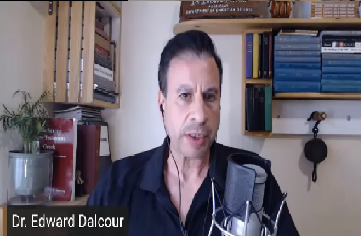 Does Noble Verse 9:31 say that Allah and Jesus are two equal Lords? Also, thorough refutation to توحيد الربوبية (tawheed alruboobiyyah, or Oneness of Lordship between Jesus and Allah) concept by the polytheist trinitarian pagans.
Satan & Peter VS. Paul: 2 Corinthians 12:7-11. Paul literally put Peter and Satan in one team.
Paul ordered the execution (actual killing) of some sinners.Paul ate his vomit.

Paul proves the book of Revelation is a forgery; a book of misogyny.
(Sam Shamoun declares gambling is allowed in Christianity)
Jesus amputated his unholy balls to remain holy. If his body was holy, were his testicles cursed and unholy, especially that he commanded the maiming of sinful body parts? They were not part of the Creator of the Universe's body?? Really???
Why did Jesus amputate his own (NT calls them satanic flesh) testicles?
.
32.  ISAIAH 9,
4 For as in the day of Midian's defeat,
you have shattered
the yoke that burdens them,
the bar across their shoulders,
the rod of their oppressor.
5 Every warrior's boot used in battle
and every garment rolled in blood
will be destined for burning,
will be fuel for the fire.
6 For to us a child is born,
to us a son is given,
and the government will be on his shoulders.
And he will be called
Wonderful Counselor, [b] Mighty God,
Everlasting Father, Prince of Peace.
7 Of the increase of his government and peace
there will be no end.
He will reign on David's throne
and over his kingdom,
establishing and upholding it
with justice and righteousness
from that time on and forever.
The zeal of the LORD Almighty
will accomplish this.
Jesus never ruled any place. Therefore, this verse cannot refer to him. It might be talking about the Jesus of Islam who will return and destroy the oppressors. We all know who the oppressors of today are.
33.  ISAIAH 11,
2And the spirit of the LORD shall rest upon him, the spirit of wisdom and understanding, the spirit of counsel and might, the spirit of knowledge and of the fear of the LORD;
6The wolf also shall dwell with the lamb, and the leopard shall lie down with the kid; and the calf and the young lion and the fatling together; and a little child shall lead them.
This never happened during the time of the Jesus. This couldn't be referring to Jesus of Christianity but could be referring to Jesus of Islam during his second coming. There is a Hadith of Prophet Muhammad (s) that during the second time of Jesus, children would play with snakes and the snakes won't bite etc.
34.  ISAIAH 32,
1Behold, a king shall reign in righteousness, and princes shall rule in judgment.
Jesus never ruled any place.
35.  ISAIAH 40,
This chapter comes closest to describing Jesus the way Christians also believe in.
4Every valley shall be exalted, and every mountain and hill shall be made low: and the crooked shall be made straight, and the rough places plain:
5And the glory of the LORD shall be revealed, and all flesh shall see it together: for the mouth of the LORD hath spoken it.
All flesh shall see it? I haven't seen it yet.
36.  ISAIAH 49,
5 …and my God shall be my strength.
Did that happen?
6 I will also give thee for a light to the Gentiles, that thou mayest be my salvation unto the end of the earth.
This is against the mission of Jesus in Matthew 15:24.
8Thus saith the LORD, In an acceptable time have I heard thee, and in a day of salvation have I helped thee: and I will preserve thee, and give thee for a covenant of the people, to establish the earth, to cause to inherit the desolate heritages;
9That thou mayest say to the prisoners, Go forth; to them that are in darkness, Shew yourselves. They shall feed in the ways, and their pastures shall be in all high places.
When did Jesus ever do that?
37.  ISAIAH 50,
7For the Lord GOD will help me; therefore shall I not be confounded: therefore have I set my face like a flint, and I know that I shall not be ashamed.
8He is near that justifieth me; who will contend with me? let us stand together: who is mine adversary? let him come near to me.
The god of the Bible forsook Jesus of the Bible as he said, My God, my God, Why have you forsaken me?
38.  ISAIAH 61,
1The Spirit of the Lord GOD is upon me; because the LORD hath anointed me to preach good tidings unto the meek; he hath sent me to bind up the brokenhearted, to proclaim liberty to the captives, and the opening of the prison to them that are bound;
Once again, when did Jesus ever do that?
39.  ISAIAH 63,
3I have trodden the winepress alone; and of the people there was none with me: for I will tread them in mine anger, and trample them in my fury; and their blood shall be sprinkled upon my garments, and I will stain all my raiment.
4For the day of vengeance is in mine heart, and the year of my redeemed is come.
5And I looked, and there was none to help; and I wondered that there was none to uphold: therefore mine own arm brought salvation unto me; and my fury, it upheld me.
6And I will tread down the people in mine anger, and make them drunk in my fury, and I will bring down their strength to the earth.
This man has anger in him and thirst for revenge. If this is referring to Jesus, then he can only have anger and thirst for revenge against the people who wanted to crucify him.
40.  ISAIAH 65,
2I have spread out my hands all the day unto a rebellious people, which walketh in a way that was not good, after their own thoughts;
3A people that provoketh me to anger continually to my face; that sacrificeth in gardens, and burneth incense upon altars of brick;
4Which remain among the graves, and lodge in the monuments, which eat swine's flesh, and broth of abominable things is in their vessels;
The man is angry at the swine eaters. Who eats swine?
9 And I will bring forth a seed out of Jacob, and out of Judah an inheritor of my mountains. And mine elect shall inherit it and my servants shall dwell there
A seed does not mean one person but many people. This doesn't prove that it is talking about Jesus.
41.  JER. 23,
5-6
Behold, the days come, saith the Lord, that I will raise unto David a righteous Branch, and a King shall reign and prosper, and shall execute judgment and justice in the earth. In his days Judah shall be saved, and Israel shall dwell safely: and this is his name whereby he shall be called, THE LORD OUR RIGHTEOUSNESS
When did this ever happen?
42.  HOSEA 6,
1Come, and let us return unto the LORD: for he hath torn, and he will heal us; he hath smitten, and he will bind us up.
2After two days will he revive us: in the third day he will raise us up, and we shall live in his sight.
3Then shall we know, if we follow on to know the LORD
Us mean more than one person, so this cannot be referring to Jesus. If this is Jesus, then it must be a blasphemy for Christians as this says that the man will know the Lord and does not already know.
43.  HAGGAI 2,
6For thus saith the LORD of hosts; Yet once, it is a little while, and I will shake the heavens, and the earth, and the sea, and the dry land;
7And I will shake all nations, and the desire of all nations shall come: and I will fill this house with glory, saith the LORD of hosts.
The desire of all nations is Prophet Muhammad (s) who is mentioned in almost every religious book. Jesus never was the desire of the world. A house is also being discussed here. If this is referring to Prophet Muhammad (s), then the house must be the Kaaba in Makkah.
44.  ZECH. 2,
10 – 11  Sin and rejoice, O daughter of Zion: for lo, I come, and I will dwell in the midst of thee, saith the Lord. And many nations shall be joined to the Lord in that day, and shall be my people: and I will dwell in the midst of thee, and thou shalt know that the Lord of hosts hath sent me unto thee
If this refers to Jesus as Christians claim, then how did he dwell in their midst? He was killed as per their beliefs and passed away from them.
45.  ZECH. 6,
12And speak unto him, saying, Thus speaketh the LORD of hosts, saying, Behold the man whose name is The BRANCH; and he shall grow up out of his place, and he shall build the temple of the LORD:
13Even he shall build the temple of the LORD; and he shall bear the glory, and shall sit and rule upon his throne; and he shall be a priest upon his throne: and the counsel of peace shall be between them both.
Jesus never did any of that. He didn't build any temple, nor did he rule any place.
46.  ZECH. 9,
9Rejoice greatly, O daughter of Zion; shout, O daughter of Jerusalem: behold, thy King cometh unto thee: he is just, and having salvation; lowly, and riding upon an ass, and upon a colt the foal of an ass.
As has been mentioned before, riding an ass is no sign. Anyone can do that and we all know that Jesus was well versed in the Old books. He knew very well about these verses.
47.  ZECH. 12,
In that day shall mourn, every family apart, the family of the house of David apart,...."
As far as that is concerned, it is not true because the whole Christian world celebrate that day as Good
48.  ZECH. 13,
2 …and also I will cause the prophets and the unclean spirit to pass out of the land.
Jesus was a Prophet, so he will also be passed out of the land?
3 And it shall come to pass that when any shall yet prophesy, then his father and his mother that begat him shall say unto him, Thou shalt not live; for thou speakest lies in the name of the Lord: and his father and his mother that begat him shall thrust him through when he prophesieth
If this verse applies to Jesus, it would mean Jesus: lied in the name of the Lord according to his parents, was killed by his parents, and died by being thrust through rather than by crucifixion.
4And it shall come to pass in that day, that the prophets shall be ashamed every one of his vision, when he hath prophesied;
Prophets giving false prophecies?
6And one shall say unto him, What are these wounds in thine hands? Then he shall answer, Those with which I was wounded in the house of my friends.
When did that ever happen to Jesus?
Conclusion:
There is not a single prophecy of the Jesus of the Bible in the entire Bible. Many prophecies come close to him but other verses in context disprove them to be the Jesus of the Bible. On the other hand, many verses do suit the Jesus of Islam.
We can conclude that the Christian go Jesus is a fictitious character and the only true Jesus is Issa (pbuh) of Islam.