What's new | A-Z | Discuss & Blog | Youtube

PERSONAL PRAYER(DU'Á) AFTER SALÁH
When you have completed your Fard or Sunnah prayers, you may pray to Alláh in your own words offering him praise, thanks-giving or asking him for forgiveness for yourself or other Muslims or your own dear and near ones. For this Du'á keep sitting after the obligatory or Sunnah prayers, hold up your hands near each other with the palms up and fingers slightly bent(as shown in figure 15). In this position you may offer anyone of these or other personal prayers: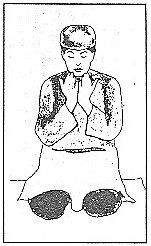 Figure 15
ALLÁHUM-MA ANTAS-SALÁM WA-MINKAS-SALÁM

O Alláh, You are the Author of peace and from comes peace.
TABÁRAKTA YÁ-DHALJALÁLI WÁL-IKRÁM

Blessed are You, O Lord of Majesty and Honour.
ALLÁHUM-MA-GHFIRLÍ WALIWÁLIDAYYA WALI USTÁDHÍ

O Alláh, forgive me and my parents and my teachers,
WALIJAMÍ'L MU'MÍNA WAL MU'MINÁTI WAL MUSLIMÍNA WAL MUSLIMÁT

and all the believing men and women and obedient men and women with your mercy.
BIRAHMATIKA YÁ-ARHAMAR-RÁHIMÍN
O Most Merciful of (all) those who show mercy.
---
---
---

What's new | A-Z | Discuss & Blog | Youtube