What's new | A-Z | Discuss & Blog | Youtube

Now recite the following or any other passage from the Holy Qur'án:

In the Name of Alláh, the Beneficent, the Merciful.
Say: Alláh is one and the only God.
Alláh, upon whom whom all depend.
He begets not, nor is He begotten,
WALAM YAKUL-LAHÚ KUFU-WAN AHAD
and there is nothing which can be compared to Him.
Now bow down saying:
Allah is the greatest.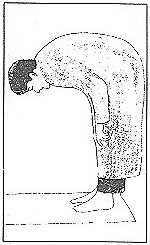 Figure 5
Place your hands on your knees and in this inclined position (Ruku' as shown in figure 5) recite these words thrice(3 times):

Glory to my Lord the great.
(Posture for ladies in Ruku' is slightly different to that of a man.)
Then come to teh standing position (figure 6&7) saying:
Alláh has heard all who praise Him.

Our Lord: Praise be to Thee.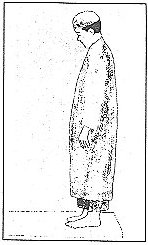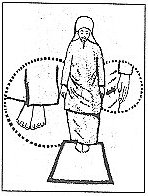 Figure 6 Figure 7
---
---
---

What's new | A-Z | Discuss & Blog | Youtube