What's new | A-Z | Discuss & Blog | Youtube

Now saying "Alláh Akbar" prostrate on the ground with your forehead, the knees, the nose and palms of both hands touching the ground. In this position (Sajdah -- as in figure 8 & 9) repeat these words three times at least:

Glory to my Lord, the most high.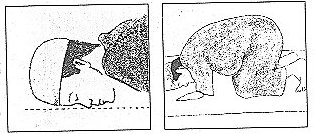 Figure 8
NOTE: Your nose & forehead in line with carpet.
Sit upright with knees still on the ground after moments rest perform the second Sajdah Saying:
Alláh is the Greatest.
In the second Sajdah as before recite the following thrice(3 times):

Glory to my Lord the most high.
This completes one raka'at of Saláh. The second raka'át is said in the same way except that after the second Sajdah you sit back, with the left foot bent towards the right, which should be placed vertical to the mat with the toes touching the mat. The palms should be lifted from the mat and placed on the knees.
Figure 10 Figure 11
In this position (Q'adah -- as shown in figures 10 and 11 silently say these words (Tashahhud):
Siiting position for females (Figure 12)
AT-TAHI-YÁTU LIL-LÁHI WAS-SALAWÁTU WAT-TAY-YIBÁTU

All prayers and worship through words, action and sanctity are for Alláh only.
AS-SALÁMU 'ALAIKA AY-YUHAN-NABIY-YU

Peace be on you, O Prophet.

and Mercy of Alláh and His blessings.
AS-SALÁMU 'ALAINÁ WA'ALÁ 'IBÁDIL-LÁHIS-SÁLIHÍN
Peace be on us and on those who are righteous servants of Alláh.
lift index finger and say:
ASH-HADU AL-LÁ ILÁHA IL-LAL-LAHÚ
I bear witness to the fact that these is no deity but Alláh.
WA-ASH-HADU AN-NA MUHAMMADAN 'ABDUHU WARASÚLUH

I bear witness that Muhammad is His slave and messanger.
(return finger in previous position)
---
---
---

What's new | A-Z | Discuss & Blog | Youtube