What's new | A-Z | Discuss & Blog | Youtube |

Find a Spouse:
Here is a list of good Islamic web sites that contain big lists of single Muslim brothers and sisters who are currently seeking spouses. I listed them as I sequentially found them. The order doesn't necessarily mean that the top ones are better than the lower ones. I highly recommend that you go through all of them.
My Free Muslim Marriage Connection Web Site.
http://www.islam.tc/ads/default.php
http://www.matrimonials.com/MML/
http://muslimmarriageconsultants.com/index.html
http://www.muslimmarriagejunction.com/index.htm
http://www.muslim-marriages.com/
http://www.mydesimatch.com/ (An Indian-only site that has Muslim and non-Muslim members in it)
http://www.asianmatrimonial.org
http://www.muslimmatrimonial.com/
http://www.easymuslimmatch.com/
www.hujja.org
http://www.MeetMuslimSingles.com Owned by a Muslim sister who converted to Islam.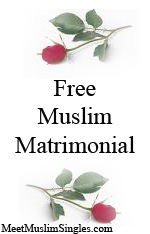 If you're aware of any site that might be helpful, then please send it to me.
Thank you!
Back to the Muslims (Isaiah 56:5: Muslim is the future believers' name. Sons and daughters titles will be "no more")' Club.
---

What's new | A-Z | Discuss & Blog | Youtube