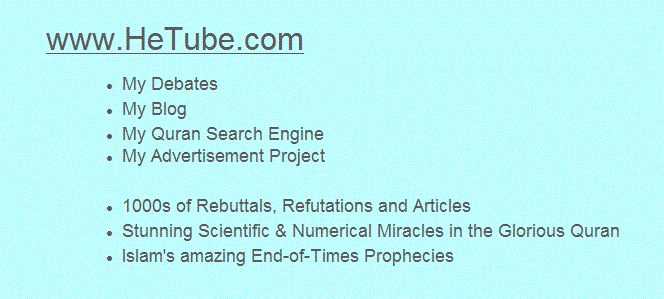 What's new | A-Z | Discuss & Blog
Jesus is a hypocrite for bowing down to GOD only during his desperate times:
The sections of this article are:
The Bible's validity and authenticity in Islam.
The Jesus of the Bible is a hypocrite.


Another incident that shows Jesus as a hypocrite. The GOD Almighty of the OT punishes to death those who betray Him, while Jesus calls them "friends".


The Jesus of Islam is not a hypocrite. The Jesus of Islam is different from the Jesus of the corrupt bible.
Conclusion.
Before we start:
Please be advised that the Jesus of Islam is not the same as the Jesus in the Bible. The purpose of this article is not to bash the Jesus of Islam, but to prove to the polytheist trinitarian pagans that Jesus can not be the Creator of the Universe. Please read the 4th section below.
Also visit:
Jesus sinned when he allowed satan to tempt him according to the New Testament! The New Testament even says that Jesus had "evil desires".

1- The Bible's Validity and authenticity in Islam:

First of all, in regards to the Bible, I as a Muslim believe that it has lots of Truth in it that came from GOD Almighty, or Yahweh or The Eternal in English, or Allah; The Supreme GOD (above all gods) in Arabic. Please visit:

What parts of the Bible do Muslims believe are closest to the Truth? and Why?

"Allah" was GOD Almighty's original Name in the Bible according to the Hebrew and Aramaic sources.

The problem with the Bible, however, especially the in the New Testament, is that it is all (except for the books of Paul) narrated by third-party people. You do see things such as "And Jesus said to Matthew..." or "when Jesus finished, the disciples stood up...". But you never see things such as "And I (Jesus) said to Matthew...", or "And Jesus said to me (Matthew)....", etc...

The problem with the Bible's New Testament is that it's authenticity and validity are very weak. I can't take Jesus as my Creator (which is indeed a very big and very serious belief) when I have books written in this unprofessional and unGODly style. What we have today in the Bible does not reflect the Truth. What we have today is only what not-appointed-by-GOD men wrote.

When I compare the New Testament to the Noble Quran, I see a big difference. The Noble Quran is perfectly preserved. It was documented on the spot after it was revealed. And because Muslims recite from the Noble Quran in their five daily prayers, and they read the entire Noble Quran during the fasting month of Ramadan, the atmosphere that the Noble Quran lived in was very protective, and truly error-proof. Allah Almighty's promise to preserve the Noble Quran lived. His promise was and is being fulfilled every single day:

"We have, without doubt, sent down the Message; and We will assuredly Guard it (from corruption).

(The Noble Quran, 15:9)"

The most important thing to me that truly proves that Islam is the Divine Religion from GOD Almighty is the Miracles in the Noble Quran. Once you read them, you will know exactly what I am talking about. Please visit Scientific Miracles in Islam and the Noble Quran.


Also, please visit: Jesus had no Divine Will according to the New Testament. How could he be our Creator?
Ten detailed sections in this article:
1- Jesus said he had no Divine Will.
2- Jesus' repetitive Prayers contradicted his very own teachings.
3- Jesus begged GOD Almighty for Mercy.
4- Jesus prostrated to GOD Almighty only once during his most desperate times! This is hypocrisy by the way.
5- GOD Almighty Created pain and death, and yet, Jesus feared them.
6- The GOD of the O.T. Punishes to death those who cursed HIS HOLY NAME. How could Jesus escape to Egypt from King Herod.
7- In original Hebrew, "son of GOD" literally means "SERVANT OF GOD". See proofs.
8- What about the authority in Heaven and Earth that was given to Jesus?
9- None of Jesus' Miracles were unique in the Bible.
10- Conclusion.

2- The Jesus of the Bible is a hypocrite:

Let us look at the following from the Bible:

"Going a little farther, he fell with his face to the ground and prayed....(From the NIV Bible, Matthew 16:39)"

"So he left them and went away once more and prayed the third time, saying the same thing. (From the NIV Bible, Matthew 26:44)"

"One of those days Jesus went out to a mountainside to pray, and spent the night praying to God. (From the NIV Bible, Luke 6:12)"

"And when thou prayest, thou shalt not be as the hypocrites are: for they love to pray standing in the synagogues and in the corners of the streets, that they may be seen of men. Verily I say unto you, They have their reward. But thou, when thou prayest, enter into thy closet, and when thou hast shut thy door, pray to thy Father which is in secret; and thy Father which seeth in secret shall reward thee openly. But when ye pray, use not vain repetitions, as the heathen do: for they think that they shall be HEARD FOR THEIR MUCH SPEAKING. Be not ye therefore like unto them: for your Father knoweth what things ye have need of, before ye ask him. (From the KJV Bible, Matthew 6:5-8)"


Matthew 26:36-44

36. Then Jesus went with his disciples to a place called Gethsemane, and he said to them, "Sit here while I go over there and pray."
37. He took Peter and the two sons of Zebedee along with him, and he began to be sorrowful and troubled.
38. Then he said to them, "My soul is overwhelmed with sorrow to the point of death. Stay here and keep watch with me."
39. Going a little farther, he fell with his face to the ground and prayed, "My Father, if it is possible, may this cup be taken from me. Yet not as I will, but as you will."
40. Then he returned to his disciples and found them sleeping. "Could you men not keep watch with me for one hour?" he asked Peter.
41. "Watch and pray so that you will not fall into temptation. The spirit is willing, but the body is weak."
42. He went away a second time and prayed, "My Father, if it is not possible for this cup to be taken away unless I drink it, may your will be done."
43. When he came back, he again found them sleeping, because their eyes were heavy.
44. So he left them and went away once more and prayed the third time, SAYING THE SAME THING.

Jesus said "no vain repetitions" in Prayers. But how many times did Jesus pray over the same thing in such a small period of time? 3 times in Matthew 26:36-44, and endlessly in Luke 6:12. Let us again look at the following verse:

"One of those days Jesus went out to a mountainside to pray, and spent the night praying to God. (From the NIV Bible, Luke 6:12)"

When Jesus prayed ENDLESSLY all night long in Luke 6:12, did he not repeat his prayers? His main focus was on GOD Almighty saving him from the crucifixion. Jesus' prayers all night long, which obviously were far more than just 3 times, were repetition after repetition after repetition, compromising his very own commands about not doing "vain repetitions."

It is really interesting that Jesus decided to bow down to Allah Almighty. This rare and not so usual practice in Christianity is something we Muslims do 5 times every single day. What Jesus did during his most desperate times in trying to glorify GOD Almighty in the best possible way he can to grab GOD Almighty's attention and to show Him that he (Jesus) is giving Him (GOD) everything he can and is bringing himself in the lowest possible humility before Him, we Muslims simply do it 5 times every day without being desperate to glorify GOD Almighty.

Very Important Note: Practicing Muslims do ask GOD Almighty in Prayer when their faces are on the ground during the 5-daily prayers. I was taught that this is the best position to ask Allah Almighty in. My point is that what Jesus did during his most desperate times, we Muslims do it every single day! It seems to me that any practicing Muslim glorifies GOD far better than what Jesus in the Bible did and will ever do.

The incident of Jesus bowing to GOD Almighty in worship is often ignored by Trinitarian Christians. I am surprised that Trinitarian Christians don't even have any problem with the seriousness of this incident. Let us look at few points here:


1- When Jesus bowed down to GOD Almighty only during his desperate times and not in any other time, this tells us that Jesus did not worship GOD Almighty properly during his normal times, because he immediately compromised the normal way that he taught his followers:

"But thou, when thou prayest, enter into thy closet, and when thou hast shut thy door, pray to thy Father which is in secret; and thy Father which seeth in secret shall reward thee openly. (From the KJV Bible, Matthew 6:5-8)"

2- Jesus did not pray in secret to GOD Almighty. He prayed in a totally different and better way. Jesus contradicted his very own commands.

3- Jesus' incident was simply telling GOD: GOD, I will not sit in my room and pray to you in secret as I commanded my followers. I will do even more to you. I will bow down to you and worship you in the maximum humility, and I pray that you save me from the pain that I am about to go through. This is my extra bonus prayer to you GOD! Please save me!!

Of course this unclassy and hypocritical standard that lacks dignity and respect to GOD Almighty by all means by the Jesus of the man-altered and corrupted bible is not accepted in Islam. You either pray to GOD Almighty consistently or you don't. But to treat GOD Almighty like this is frankly in my opinion blasphemous, because you're attempting to act smart with GOD Almighty and not be a true Servant.

In other words, once you get your thing out of Him, then you won't "degrade yourself" and bow down to Him again?

That's blasphemy!!

Again, please visit: Jesus had no Divine Will according to the New Testament. How could he be our Creator?
Ten detailed sections in this article:
1- Jesus said he had no Divine Will.
2- Jesus' repetitive Prayers contradicted his very own teachings.
3- Jesus begged GOD Almighty for Mercy.
4- Jesus prostrated to GOD Almighty only once during his most desperate times! This is hypocrisy by the way.
5- GOD Almighty Created pain and death, and yet, Jesus feared them.
6- The GOD of the O.T. Punishes to death those who cursed HIS HOLY NAME. How could Jesus escape to Egypt from King Herod.
7- In original Hebrew, "son of GOD" literally means "SERVANT OF GOD". See proofs.
8- What about the authority in Heaven and Earth that was given to Jesus?
9- None of Jesus' Miracles were unique in the Bible.
10- Conclusion.

3- Another incident that shows Jesus as a hypocrite:

Matthew 16:36-50

36. Then Jesus went with his disciples to a place called Gethsemane, and he said to them, "Sit here while I go over there and pray."
37. He took Peter and the two sons of Zebedee along with him, and he began to be sorrowful and troubled.
38. Then he said to them, "My soul is overwhelmed with sorrow to the point of death. Stay here and keep watch with me."
39. Going a little farther, he fell with his face to the ground and prayed, "My Father, if it is possible, may this cup be taken from me. Yet not as I will, but as you will."
40. Then he returned to his disciples and found them sleeping. "Could you men not keep watch with me for one hour?" he asked Peter.
41. "Watch and pray so that you will not fall into temptation. The spirit is willing, but the body is weak."
42. He went away a second time and prayed, "My Father, if it is not possible for this cup to be taken away unless I drink it, may your will be done."
43. When he came back, he again found them sleeping, because their eyes were heavy.
44. So he left them and went away once more and prayed the third time, saying the same thing.
45. Then he returned to the disciples and said to them, "Are you still sleeping and resting? Look, the hour is near, and the Son of Man is betrayed into the hands of sinners.
46. Rise, let us go! Here comes my betrayer!"
47. While he was still speaking, Judas, one of the Twelve, arrived. With him was a large crowd armed with swords and clubs, sent from the chief priests and the elders of the people.
48. Now the betrayer had arranged a signal with them: "The one I kiss is the man; arrest him."
49. Going at once to Jesus, Judas said, "Greetings, Rabbi!" and kissed him.
50. Jesus replied, "Friend, do what you came for."

While on the surface this appears to be a minor point, but in actuality it isn't. I am not here trying to beat the Jesus of the Bible to death by picking on every little thing he did, but rather, I am proving to the reader that his words and characteristics are not Divine and he is in no way our Creator.

Jesus calling his betrayer as "friend" is hypocrisy and is inconsistent with the Divine Perfection and Standards of GOD Almighty. GOD Almighty in the Old Testament is extremely tough on renegades or apostates and Commands His Servants to punish them to death:

2 Chronicles 15:13 "All who would not seek the LORD, the God of Israel, were to be put to death, whether small or great, man or woman."

Deuteronomy 13:6-9 "If your very own brother, or your son or daughter, or the wife you love, or your closest friend secretly entices you, saying: Let us go and worship other gods (gods that neither you nor your fathers have known, gods of the peoples around you, whether near or far, from one end of the land to the other, or gods of other religions), do not yield to him or listen to him. Show him no pity. Do not spare him or shield him. You must certainly put him to death. Your hand must be the first in putting him to death, and then the hands of all the people."

Deuteronomy 17:3-5 "And he should go and worship other gods and bow down to them or to the sun or the moon or all the army of the heavens, .....and you must stone such one with stones and such one must die."


So was Judas really Jesus' "friend"? Isn't Jesus supposed to be the Creator of the Universe as the polytheist trinitarian pagans claim? Then am I wrong for taking Jesus, my supposed perfect GOD, at his own words and exposing his faults?

4- The Jesus of Islam is not a hypocrite:

Let us look at what Allah Almighty said about Jesus peace be upon him:

"Such (was) Jesus the son of Mary: (it is) a statement of truth, about which they (vainly) dispute. (The Noble Quran, 19:34)"

"The similitude of Jesus before God is as that of Adam; He created him from dust, then said to him: "Be". And he was. (The Noble Quran, 3:59)"

"And behold! God will say: "O Jesus the son of Mary! Didst thou say unto men, worship me and my mother as gods in derogation of God'?" He will say: "Glory to Thee! never could I say what I had no right (to say). Had I said such a thing, thou wouldst indeed have known it. Thou knowest what is in my heart, Thou I know not what is in Thine. For Thou knowest in full all that is hidden. (The Noble Quran, 5:116)"

"O People of the Book! Commit no excesses in your religion: Nor say of God aught but the truth. Christ Jesus the son of Mary was (no more than) an apostle of God, and His Word, which He bestowed on Mary, and a spirit proceeding from Him: so believe in God and His apostles. Say not "Trinity" : desist: it will be better for you: for God is one God: Glory be to Him: (far exalted is He) above having a son. To Him belong all things in the heavens and on earth. And enough is God as a Disposer of affairs. (The Noble Quran, 4:171)"

"Christ disdaineth nor to serve and worship God, nor do the angels, those nearest (to God): those who disdain His worship and are arrogant,-He will gather them all together unto Himself to (answer). (The Noble Quran, 4:172)"

"Curses were pronounced on those among the Children of Israel who rejected Faith, by the tongue of David and of Jesus the son of Mary: because they disobeyed and persisted in excesses. (The Noble Quran, 5:78)"

"The same religion has He established for you (i.e., Muhammad) as that which He enjoined on Noah - the which We have sent by inspiration to thee - and that which We enjoined on Abraham, Moses, and Jesus: Namely, that ye should remain steadfast in religion, and make no divisions therein: to those who worship other things than God, hard is the (way) to which thou callest them. God chooses to Himself those whom He pleases, and guides to Himself those who turn (to Him). (The Noble Quran, 42:13)"

"We gave Moses the Book and followed him up with a succession of apostles; We gave Jesus the son of Mary Clear (Signs) and strengthened him with the holy spirit. Is it that whenever there comes to you an apostle with what ye yourselves desire not, ye are puffed up with pride?- Some ye called impostors, and others ye slay! (The Noble Quran, 2:87)"

"And in their footsteps We sent Jesus the son of Mary, confirming the Law that had come before him: We sent him the Gospel: therein was guidance and light, and confirmation of the Law that had come before him: a guidance and an admonition to those who fear God. (The Noble Quran, 5:46)"

"Those apostles We endowed with gifts, some above others: To one of them God spoke; others He raised to degrees (of honour); to Jesus the son of Mary We gave clear (Signs), and strengthened him with the holy spirit. If God had so willed, succeeding generations would not have fought among each other, after clear (Signs) had come to them, but they (chose) to wrangle, some believing and others rejecting. If God had so willed, they would not have fought each other; but God Fulfilleth His plan. (The Noble Quran, 2:253)"

"Say ye: "We believe in God, and the revelation given to us, and to Abraham, Isma'il, Isaac, Jacob, and the Tribes, and that given to Moses and Jesus, and that given to (all) prophets from their Lord: We make no difference between one and another of them: And we bow to God (in Islam)." (The Noble Quran, 2:136)"

"Behold! the angels said: "O Mary! God giveth thee glad tidings of a Word from Him: his name will be Christ Jesus, the son of Mary, held in honour in this world and the Hereafter and of (the company of) those nearest to God; (The Noble Quran, 3:45)"

"When Jesus found Unbelief on their part He said: "Who will be My helpers to (the work of) God?" Said the disciples: "We are God's helpers: We believe in God, and do thou bear witness that we are Muslims. (The Noble Quran, 3:52)"

"Behold! God said: "O Jesus! I will take thee and raise thee to Myself and clear thee (of the falsehoods) of those who blaspheme; I will make those who follow thee superior to those who reject faith, to the Day of Resurrection: Then shall ye all return unto me, and I will judge between you of the matters wherein ye dispute. (The Noble Quran, 3:55)"

"That they said (in boast), "We killed Christ Jesus the son of Mary, the Apostle of God";- but they killed him not, nor crucified him, but so it was made to appear to them, and those who differ therein are full of doubts, with no (certain) know ledge, but only conjecture to follow, for of a surety they killed him not:- (The Noble Quran, 4:157)"

"Then will God say: "O Jesus the son of Mary! Recount My favour to thee and to thy mother. Behold! I strengthened thee with the holy spirit, so that thou didst speak to the people in childhood and in maturity. Behold! I taught thee the Book and Wisdom, the Law and the Gospel and behold! thou makest out of clay, as it were, the figure of a bird, by My leave, and thou breathest into it and it becometh a bird by My leave, and thou healest those born blind, and the lepers, by My leave. And behold! thou bringest forth the dead by My leave. And behold! I did restrain the Children of Israel from (violence to) thee when thou didst show them the clear Signs, and the unbelievers among them said: 'This is nothing but evident magic.' (The Noble Quran, 5:110)"

"Behold! the disciples, said: "O Jesus the son of Mary! can thy Lord send down to us a table set (with viands) from heaven?" Said Jesus: "Fear God, if ye have faith." (The Noble Quran, 5:112)"

"Said Jesus the son of Mary: "O God our Lord! Send us from heaven a table set (with viands), that there may be for us - for the first and the last of us - a solemn festival and a sign from thee; and provide for our sustenance, for thou art the best Sustainer (of our needs)." (The Noble Quran, 5:114)"

"And Zakariya and John, and Jesus and Elias: all in the ranks of the righteous: (The Noble Quran, 6:85)"

"When (Jesus) the son of Mary is held up as an example, behold, thy people raise a clamour thereat (in ridicule)! (The Noble Quran, 43:57)"

"And (Jesus) shall be a Sign (for the coming of) the Hour (of Judgment): therefore have no doubt about the (Hour), but follow ye Me: this is a Straight Way. (The Noble Quran, 43:61)"

"When Jesus came with Clear Signs, he said: "Now have I come to you with Wisdom, and in order to make clear to you some of the (points) on which ye dispute: therefore fear God and obey me. (The Noble Quran, 43:63)"

"Then, in their wake, We followed them up with (others of) Our apostles: We sent after them Jesus the son of Mary, and bestowed on him the Gospel; and We ordained in the hearts of those who followed him Compassion and Mercy. But the Monasticism which they invented for themselves, We did not prescribe for them: (We commanded) only the seeking for the Good Pleasure of God; but that they did not foster as they should have done. Yet We bestowed, on those among them who believed, their (due) reward, but many of them are rebellious transgressors. (The Noble Quran, 57:27)"

"And remember, Jesus, the son of Mary, said: "O Children of Israel! I am the apostle of God (sent) to you, confirming the Law (which came) before me, and giving Glad Tidings of an Apostle to come after me, whose name shall be Ahmad." But when he came to them with Clear Signs, they said, "this is evident sorcery!" (The Noble Quran, 61:6)" Please visit Jesus mentioned Muhammad by the name in the Bible.

"O ye who believe! Be ye helpers of God: As said Jesus the son of Mary to the Disciples, "Who will be my helpers to (the work of) God?" Said the disciples, "We are God's helpers!" then a portion of the Children of Israel believed, and a portion disbelieved: But We gave power to those who believed, against their enemies, and they became the ones that prevailed. (The Noble Quran, 61:14)"

5- Conclusion:

I am not asking you to stop believing in Jesus peace be upon him. Jesus was not a liar. The Bible's New Testament is the book that is full of lies and man-made corruptions and alterations. Jesus was not a hypocrite. Yes, the Jesus of the Bible is a hypocrite as I clearly showed above. The tough situations Jesus was put through clearly took away his "perfection" and showed that he can not be the Creator of the Universe. But the Jesus of Islam never claimed to be perfect, nor ever claimed to be GOD.

So the least I am asking from you, Mr. reader, is that if you're a Trinitarian Christian, then you should desert this stupidity immediately!! I truly wish and pray that you do embrace Islam; the True Divine Religion of GOD Almighty. But if you can't, then at least desert this polytheist and pagan practice, so you would at least have some chance to be saved in the End:

"Say: He is God, the One and Only; God, the Eternal, Absolute; He begetteth not, nor is He begotten; And there is none like unto Him. (The Noble Quran, 112:1-4)"

Jesus was no creator, and even your very own corrupted New Testament proves it as I clearly showed above.

Jesus' own actions proved that he was no more than a Creation from GOD Almighty that had physical and psychological limitations and fears. When Jesus was faced with the death challenge, he failed to be perfect. He compromised his own teachings about proper prayers. He also so ridiculously bowed down to GOD Almighty for the FIRST TIME in a hope to further please GOD Almighty during his most desperate times. This is not worship. This is a clear hypocrisy!!

Need I also remind you that Jesus did not know when the Hour would come? "No one knows about that day or hour, not even the angels in heaven, nor the Son, but only the Father. (From the NIV Bible, Matthew 24:36)"

My friend and brother/sister in humanity, desert the stupidity of trinity immediately so you can be saved. Otherwise, you have only yourself to blame.

Is Jesus greater than Adam? NT says no.

Contradictions and History of Corruption in the Bible.

What parts of the Bible do Muslims believe are closest to the Truth? and Why?

"Allah" was GOD Almighty's original Name in the Bible according to the Hebrew and Aramaic sources.

Scientific Miracles in Islam and the Noble Quran.

Satan Christ? Of course Jesus is not the cursed satan! But, Jesus called Peter satan for telling Jesus that GOD would not allow Jesus to get hurt, crucified or killed "suffer many things". Yet, Jesus begged GOD to save him from crucifixion and all hurt. And the Psalms all prophesied about Jesus will be saved from death and all hurt: Psalm 91, Isaiah 53, Psalms 116, 117, 118. According to Islam, GOD Almighty honored Jesus' request and saved him. The gospel of Matthew even says that Pontus Pilot was standing between two Jesus Barabba (son of his father), one who killed Roman soldiers and the other is our innocent Messiah. Pilot opposed killed Jesus and Pilot's wife got sick and had a terrifying dream warning Pilot about the sin of killing Jesus. The two double-Jesus men & Pontus Pilate in Matthew 27:16-17: [2, 1, html]. So according to Christians, GOD Almighty DENIED Jesus' cries. But of course, according to Islam, GOD honored the cries of his beloved servant and creation, Isa (Jesus), and saved him. The OT even prophesied about Jesus and Mary begging GOD and Praising GOD for saving Jesus: Psalm 91, Isaiah 53, Psalms 116, 117, 118.

Isa (Jesus), the Islamic Messiah and creation of Allah Almighty, is NOT our Creator:


Jesus had no Divine Will according to the New Testament. How could he be our Creator?
Ten detailed sections in this article:
1- Jesus said he had no Divine Will.
2- Jesus' repetitive Prayers contradicted his very own teachings.
3- Jesus begged GOD Almighty for Mercy.
4- Jesus prostrated to GOD Almighty only once during his most desperate times! This is hypocrisy by the way.
5- GOD Almighty Created pain and death, and yet, Jesus feared them.
6- The GOD of the O.T. Punishes to death those who cursed HIS HOLY NAME. How could Jesus escape to Egypt from King Herod.
7- In original Hebrew, "son of GOD" literally means "SERVANT OF GOD". See proofs.
8- What about the authority in Heaven and Earth that was given to Jesus?
9- None of Jesus' Miracles were unique in the Bible.
10- Conclusion.

See Also:

The "Son of God" Title in the 1 John 2:22

Jesus is Yahweh the Son? See how Christians got this very wrong in the NT, using Jesus' words himself!
Also, is Islam the anti-Christ system according to 1 John 2:22?

Anti-Christ | 1john 2:22-23 | 911 was 100% an Israeli Lie | Boston | 666| Dividing Israel
---