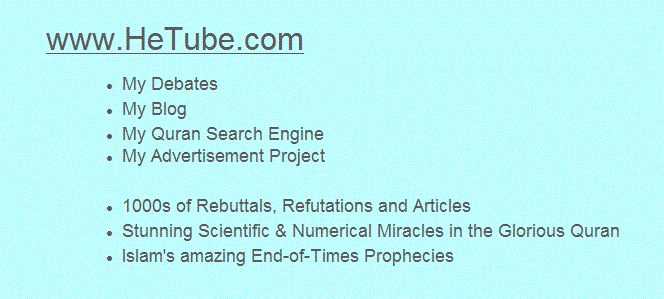 What's new | A-Z | Discuss & Blog
Jesus' absolute and hyperbolic statements that are oxymoronic & anti-GOD:

Daniel 7:25: The false messiah (king) will mislead and will alter time (new calendar) and the Law. Christianity fits this description perfectly. The false tongue of problematic hyperboles has caused for the forbidden to become lawful and for the lawful to become forbidden:
Daniel 7:25
25 He shall speak words against the Most High,
and shall wear out the saints of the Most High,
and shall think to change the times and the law;
and they shall be given into his hand
for a time, times, and half a time.
See also the ample prophecies about the new covenant and new Servant will come from the desert of Kedar and Teman in Arabia [2]. Prophet Muhammad was even mentioned by the name in the found Dead Sea scrolls: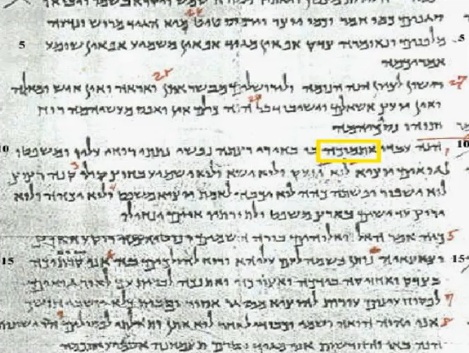 1- Jesus never prohibited polygamy:

This is thoroughly discussed at www.answering-christianity.com/ntpoly.htm:

2- Promised a lie:

This is thoroughly discussed at www.answering-christianity.com/12th_disciple_and_rolling_of_dice_lie.htm:

The analysis below clearly show that the false "Jesus" of the full-of-fabrications, the corrupt Bible, is not what Isa (eesa), the true Messiah and the son of our virgin mother Marium (Mary), is. Peace and blessings be upon Isa and his mother. We believe in the virgin birth of the Messiah, and we believe he will return to fight the armies of satan. Both the Bible and Islam agree that he will return as an Arab [2] from Damascus, Syria. Also visit:

Oxymoron Trinity (100+ verses), Bible, Jesus, Jews, Hijacked Bible sections.
Jesus: Arabs are no longer the Jews' dogs.
Matthew 24:25-27: Jesus will return as an Arab from Syria.

Jesus: Spirit of Truth is Prophet Muhammad (John 16:13).

3- Drinking serpents' poisons?

Another false promise and lie. This time, the promise is quite dangerous.

From www.answering-christianity.com/authors_gospels.htm:

The Gospel of Mark:

..........

Here is an email that I received from a Christian regarding Mark 16:17-18. Emphasis below are mine:

From: R.Mercer
To: Osama Abdallah
Subject: I Totally Agree
Date: Sun, 1 Apr 2001 13:41:57 -0700

"What credibility does Christianity have when it scriptures are littered
with such dangerous and obvious forgeries?"

You summed it up very well on your web page. That is my question
entirely. Just what are we to believe? If forgeries have been proven to
exist in the Bible, then how many more must there be? What about the
chapters and verses we all guide our whole life/styles by? Are they
forgeries, too?

This verse in Mark 16:17-18, has always bothered me. I have, and
still do believe the rest of that passage (laying on of hands, healing
the sick,...), so how can that part of the passage be true when the
serpent part is forged?

I know the part on drinking any poison says "IF", but the part on
taking up serpents says "SHALL", which has always been a problem for me
to believe. Imagine us all being forced to take up serpents in order to
serve God.

On the other hand, if this was forged, then that creates an even
bigger concern for me. Not knowing what text in our Bible is authentic
and what is not.

Thanks for letting me take up so much of your time. Like I said
before, this passage always bothered me, probably more so than any other.

Thanks, once again. Good Day.

4- Pork and sex oxymoron:

Christians have turned into the world's biggest pork consumers due to an empty and problematic hyperbole.


5- Slave of GOD:

Jesus said Prophets are Servants, Jesus is the Son. But the Old Testament thoroughly calls Jesus the

slave of GOD

[1] and who also fears GOD. Yes indeed, the Islamic Isa (eesa) is the Messiah. This is his special sonship. He is also the Lord of his Mansion, which has twelve thrones or fruits [2]. He is more than a mere Jewish Rasul (Prophet) in this regard. He is also the heir of GOD on earth only. That's the limit of his sonship. Otherwise, it is sun chips! There is nothing GODly about him. He is not our Creator. With all of his glory and might, he still remains a mere abd (slave) of GOD [1] as all sons of GOD were also called slaves of GOD. See also:



6- Baptist vs. Job oxymoron:

Now of course, there are ample other examples like Abraham, Enoch, Noah, Ezra and others one can give besides Prophet Job, peace be upon all of GOD Almighty's Messengers and Prophets:


GOD Exposed the Ignorance:

GOD Almighty thoroughly exposed Jesus' ignorance of the future. Here are a few examples:

1- Jesus said that John the Baptist is the greatest flesh and blood human ever born from the woman. Yet, the Baptist died doubting Jesus.

2- Jesus assigned Judas a seat to the Throne. Yet, Judas betrayed Jesus.

3- Jesus said "I do not know" on several occasions, most notably the time of the Hour [2].

4- The disciples had to "cast lot" (use a game of chance) to select the twelfth disciple after Judas. No Holy Spirit selected the 12th disciple [1].

5- The disciples competed with each other on who gets to sit next to the immediate right and immediate left of Jesus on the Throne, and Jesus told them that it is only GOD Almighty alone who decides this alone who decides this [2].

6- The ignorance of Jesus in Mark 11:13 regarding the fig tree's season. He went to see fruits and didn't know or forgot it wasn't the season for figs. There were no fruits there.

7- Christians now are the world's biggest pork consumers. This is because they follow a false man-made religion that is made of problematic and evil hyperboles.

8- And many other examples one can give.

7- All rich are going to hell:

(a)- The poor are better than the rich?

(b)- Mary Magdalene was a prostitute:

Also, was not Mary Magdalene a prostitute? Was she rich or poor? Was she better than all of the rich women in town? Was Jesus drunk when he said this GOD-defying oxymoron statement? If rich people aren't that and/or he never really meant it, then why utter such drunk nonsense?

(c)- Too much emphasis on money, and oxymoronic contradictions:

Subjugating Salvation by money:

We know from the Bible who was in full control of the money:

I just find ridiculously odd that there is way too much emphasis on money to a point that your entire salvation is subjugated by it. Why is it that if one does not give up all of his wealth then he'd be doomed to Hell? Why are the two even linked together?? And we know that Jesus changed his position on this when he blessed another rich man who gave up half of his wealth, and still remained rich:

So here Jesus blessed a rich man for giving up half of his wealth, and still remained rich, while dooming-to-Hell all rich people who wouldn't give up all of their wealth (Luke 19:1-10, Matthew 19:20-24)? If not giving up your entire wealth would indeed doom you to Hell, then why did Jesus contradict himself for giving Zacchaeus a pass? Or was it an empty hyperbole that didn't really mean anything, i.e., that it never mattered whether you were rich or poor, or whether you gave up all of your wealth or not?

Again, The disciples had to "cast lot" (use a game of chance) to select the twelfth disciple after Judas. No Holy Spirit selected the 12th disciple.

(d)- GOD vs. Jesus: 10% vs. half vs. whole:

Again, why the too much emphasis on money? Why is salvation subjugated by one giving up all of his wealth, and then contradict this nonsense with half, when the Law that Jesus supposedly did not come to abolish commands the rich to pay 10% of their wealth:

But the law commands all rich to pay only 10% of their wealth:

From where did this law-abolishing, whole-then-half contradiction and nonsense come from? Why is being rich vilified? Then contradicted. He blessed a rich man for only giving up half of his wealth and remaining rich.

Oxymoron: All rich who don't give up everything are going to Hell. Zacchaeus who only gave up half of his wealth, and still remained rich, is going to Heaven. But all rich people who don't give up everything are going to Hell. But Zacchaeus is going to Heaven according to a bribed (?) and worthless drunk opinion. Job, the millionaire, was "perfect and upright" according to GOD Almighty. But all rich people are going to Hell if they don't give up all of their wealth.

(e)- All blonde women are going to Hell?

This is like saying all people from a certain group are all going to Hell unless they look in a certain way, or dye their hair dark or some worthless nonsense like this. You would immediately dismiss such a statement as one that came from a cartoon, at best, or from a racist and/or sexist worthless loon at worst. But this is virtually exactly what we have here. Contradicting GOD's 10% Law that he supposedly did not come to abolish, and subjugating salvation with the condition of giving up all of your wealth and giving it to Jesus and his disciples (Acts 4:34-35), and then contradicted it by reducing it to half, and contradicting the 10% Law in the Law that he supposedly did not come to abolish, and contradicting GOD Almighty on millionaire Job, makes him sound like an anti-GOD and GOD-defying blasphemous fraud.

Again and again, was Jesus speaking incoherent hyperbolic nonsense that he didn't mean for anything in it to be taken literally in any of these cases? Or was he an anti-GOD, GOD-defying drunk? Again, people called Jesus in the NT a fat drunk: "gluttonous, and a winebibber" (Matthew 11:19).

Jesus also told his disciples to watch out from false Messiahs that would deceive them and claim to be him after his departure. But if they knew his face and voice and features very well, then how could they be deceived by a false messiah? Could this "Jesus" in the NT (its books were all written between 80 to 300 years after "Jesus") be a false messiah and not the true Isa of Islam?

8- Never maimed his eyes and penis after coveting:

Jesus said that if your body part sins, maim it. If you covet a sin in your thoughts, you have actually sinned it. If your eye is lustful, pluck it out. Yet, Jesus coveted the sins of the world for 40 days and nights, and still kept his eyes and genitals. He never maimed them, even though he had "evil desires" and "suffered" through his "temptation" from satan. Again, the NT spells this out in many passages:

Matthew 5:28
28 But I tell you that anyone who looks at a woman lustfully has already committed adultery with her in his heart.

Mark 9:43-47
43 If your hand causes you to stumble, cut it off. It is better for you to enter life maimed than with two hands to go into hell, where the fire never goes out.
[44] [b]
45 And if your foot causes you to stumble, cut it off. It is better for you to enter life crippled than to have two feet and be thrown into hell.
[46] [c]
47 And if your eye causes you to stumble, pluck it out. It is better for you to enter the kingdom of God with one eye than to have two eyes and be thrown into hell.

Footnotes:
Mark 9:44 Some manuscripts include here the words of verse 48.
Mark 9:46 Some manuscripts include here the words of verse 48.

Jesus felt spiritually weak, from the temptation, that Angels had to come down to "attend him" (Mark 1:12-13), and he "suffered" (Hebrews 2:17-18) from satan's temptation. And the NT further says that everyone, including Christ, who gets tempted has "evil desires" and was "dragged/let by satan" because of them (Luke 4:5-6, James 1:13-15) in him.

It is a fact that the Bible prohibits coveting (Romans 7:7-8, 13:9, Micah 2:1-2, Exodus 20:17, Deuteronomy 5:21, Acts 20:32-35). Yet ironically, Jesus did almost nothing but coveting during his 40 days and nights of temptation from satan. He got so bad and so weak that Angels had to come down to help him, literally "attend him". He was having "evil desires", and he "suffered" from satan's temptations. Also visit:

www.answering-christianity.com/trinity_crucified.htm

9- Resurrection vs. Heaven:

10- Metaphoric resurrections, and Paul lifting trees & mountains:

Please visit:

11- Begged GOD while considering it satanic?

12- Holy Spirit only for money:

When it came to collecting money, the Holy Spirit was all over the place (Acts 5). But when it came to selecting the 12th disciple, they had to roll the dice to pick Matthias via a game of chance. And they lied on GOD Almighty and said that the result of the casting of the lots was from GOD Almighty. But the Holy Spirit was supposedly there from the first place. So why couldn't It just speak Matthias' name and be done with it? Why the game of chance at all?

From www.answering-christianity.com/12th_disciple_and_rolling_of_dice_lie.htm:

13- Israel vs. Daniel, Jesus and Palestine in Matthew 24:

14- He is our creator oxymoronic joke:

The trinitarians' ludicurous blasphemy and joke is ineed quite ridiculous. It gets even more ridiculous when we know that the satanic word, "trinity", does not even exist anywhere in the entire Bible.

My unfinished brainstorms.....

- Holy Spirit is not Beelzebub
Mark 3:29 But he that shall blaspheme against the Holy Ghost hath never forgiveness, but is in danger of eternal damnation.
- So Jesus is inspired by the Holy Spirit. He is beneath the Holy Spirit.

- Mathias the 12th disciple was chosen by a game of chance (casting lot). Yet, before that, the Holy Spirit was supposedly all over the disciples, especially when it was time to collect money from the masses.
"Everyone who owned land or houses would sell them and bring the money to the apostles" (The Bible, Acts 4:34-35)

https://www.answering-christianity.com/pauls_delusions.htm

- The Christians' "Holy Spirit" is nothing more than:

Christian churches and societies today are infested with whoredom, pedophilia, open sexuality, liars, crooks, thieves. They don't have Islam's Holy Spirit.

- Jesus told his disciples to watch out from false Messiahs that would deceive them and claim to be him after his departure. But if they knew his face and voice and features very well, then how could they be deceived by a false messiah? Could this "Jesus" in the NT (its books were all written between 80 to 300 years after "Jesus") be a false messiah and not the true Isa of Islam?

- Paul said that the people in authority won't hurt you. Yet, he himself was an oppressive authority, and Jesus was supposedly crucified by the authorities. It's like being melosted by a church priest, and then 20 years later say church priests would never molest anyone. Ridiculous oxymoron and self-refuting and very stupid kind of logic and statement.

- Paul said that all spiritual leaders make judgment about all things, but they are never to be subjected to any man's judgment. Good judgment they always accept, but bad one they don't accept. But why can't they be subjected to anyone's judgment? Christianity is built on mens' judgments and worthless opinions.

- Tempted, evil desires, suffering, coveting. If he was tempted, then he coveted. If he wasn't, then the text is problematic and off for saying he was tempted.
- Do not judge others. Yet, he was walking around insulting people. Yes, you must be considerate, understanding to people, and try to see it from their perspective, but you also sometimes ***MUST*** judge and judge very harshly.
- Do not call anyone "Father", yet the disciples called others that. And does this include your own biological father whom you are his sperm? People in the OT did call their fathers "father".
- I have not come to abolish the Law, yet abrogations and contradictions happened. It's like the US constitution. I have not come to abolish the constitution, but let's cancel the 1st and 2nd amendments. So if it happens, would I not have abolished the constitution? Turning America into a police state. This is the kind of talk dictators who take over government through military coups say. I have not come to change the law. Yet, he changes it and makes himself the permanent ruler.
- I am the resurrection. He didn't say I am the Mighty One now I ressurect you Lazarus. He had to cry and beg GOD Almighty to resurrect his friend so that the people would see the Glory of GOD.
- I am the Truth and the way, no one comes to the Father except through me. No one here is for the Jews only (I have only come to the lost sheep of Israel, 12 thrones and fruits of Israel).
- Jonah's sign and deep in the heart of the earth. But he was never buried inside earth, nor ever put inside any coffin. He laid on the floor inside a tomb, got healed and got up after that and left.

- Working on the Sabbath, the sheep falls in the well example, and ignorance about the good Jew who was put to death in the OT for collecting wood on the Sabbath.
- Deuteronomy 17:17 prohibits king from marrying "many wives", because he'll get too busy. Paul did a similar thing with church deacons by commanding them to marry one wife each (1Timothy 3:2, 1Timothy 3:12 and Titus 1:6). OT does not prohibit polygamy to the ordinary people. NT too does not prohibit polygamy to the ordinary.

https://en.wikipedia.org/wiki/Polygamy_in_Christianity

Deuteronomy 25 commands brother (even if he's already married) to marry his dead brother's widow. And if he refuses to marry her she must spit on his face.

Deuteronomy 25:9 his brother's widow shall go up to him in the presence of the elders, take off one of his sandals, spit in his face and say, "This is what is done to the man who will not build up his brother's family line."

GOD Almighty in the OT commanded kings to not marry "many women". So many women in marriage to one man is not liked by GOD Almighty. In Islam, polygamy is limited to upto four wives only.

In bible kings are forbidden from having many wives. So GOD does not like many wives. In Islam wives are limited to four. Add this to abrogations articles also and to NT poly.

They become one flesh in marriage? So the OT days married people were they also not one flesh with their wives even multiple wives at a time? A family is also one flesh. So a family of multiple wives is one flesh too.

Islam prohibits threesome with women, and for women to see each other nakedness, and anal sex. Each woman is separate from the other.



- Do not judge people.

JESUS DODGED QUESTIONS:
- He said in resurrection there will be no marriage. He dodged addressing will marriage exist in Heaven. Will Heaven have testicles, sperms, semen, eggs, vaginas and wombs? Men resurrected with their male genitals to Heaven, including Jesus, Paul, Elijah and others.
- Will we marry and have children in Heaven? Are Adam and Eve a husband and wife in Heaven?
- Labor on Sabbath and sheep falling in the well example. Collecting wood was always allowed on the Sabbath??? Yet in the OT, a good Jewish man was put to death for this very reason. Moses was scared to do the man injustice and went up to GOD Almighty to receive the direct Command on the good man. And GOD Almighty ordered that he be put to death.
-



**** Everything about Christianity is conjecture, including the name of the religion itself, Jesus' name all of the laws from pork, to polygamy, lesbianism, abolishing the Law, Praying, Fasting,

"Not as I will, but as you will" proves that Jesus and GOD Almighty are not ONE GOD. They have separate wills. People in company are one, but they have different wills. This is why there are splits and terminations among individuals in companies. You and your wife are one. But she can still cheat on you, lie to you, divorce you, and even kill you. Your oneness does not mean you both are ONE INDIVIDUAL. You are two different individuals in partnership. Jesus had a speparate will than GOD Almighty, and could never dare to go against GOD Almighty.


Jonah was an Iraqi and Job was an Arab. Both Arabs and both are non-Jews. Sign of Jonah and sinless Job.

Alive, alive alive (he prayed to GOD and repented inside the whale's belly).

Jesus' promised-collosal-event that this generation will not pass until they see him return as king, after his departure, never happened! (Matthew 16:24-28)

Jesus refutes the redemption-by-blood lie: (Matthew 18:1-8, Matthew 18:21-35, Matthew 20:1-16)

Only GOD decides, not Jesus (Matthew 20:20-23)

If you have faith, you can dry a tree in a second and lift a mountain and throw it in the sea: (Matthew 21:18-22)

Jesus banquet is his Heaven and Mansion that he will be lord of (Matthew 22:1-14, Matthew 22:43-45, Matthew 23:38-39, Matthew 24:36-44, Matthew 20:20-23)
- Jesus has no control over how will his Heaven be like. It's all in GOD Almighty's Hands.

No Christians to be called "teacher", "father", "leader" (Matthew 23:8-12)

Jews travel over land and sea to win converts? (Matthew 23:15)

Jesus will return from Arabia, the East (Matthew 24:27)

Jesus promises that this generation will not pass until all of this happens.

Jesus called Peter "satan" for saying GOD wouldn't let him get crucified, but Jesus also begged GOD to save him from crucifixion 1 night before the crucifixion (Matthew 16:21-28, Matthew 26:36-46)
- Did Jesus call himself "satan"?
- Jesus violated: vein repetitions, prayed better and more glorifying Prayer to GOD, begged GOD endlessly to save him from crucifixion "IF ITS POSSIBLE" while he called Peter a satan for saying that GOD would not let him get crucified.
- Jesus' quote on him: "Satan! Stop saying that (praing to GOD to not get crucified)"
- "Satan! Stop refusing GOD's Divine Will!"






Never forget Islam's Divine Miracles: