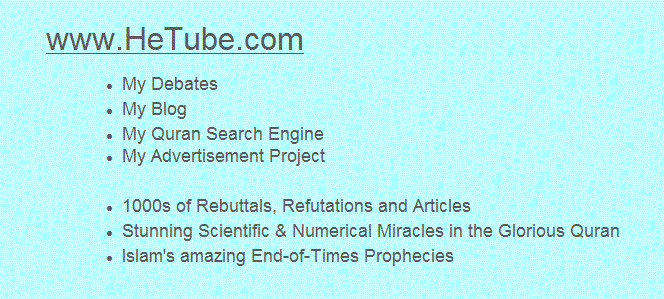 Search and find articles and topics quickly and accurately! See different advanced ways to search for articles on this site.
Keep in mind the following:
1- Prophet "AHMAD" is found in the Dead Sea Scrolls: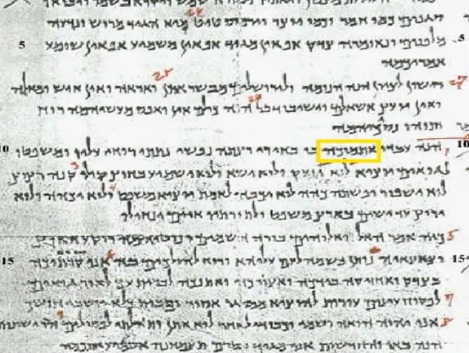 (Click to play film)

You can also read this 195-page PDF file [2] [3] in Arabic. I am currently working on translating all of it into English. It will be available soon, insha'Allah (if Allah Almighty is Willing).

Prophet Muhammad's prophetic Name, "Ahmed", was found in the Dead Sea Scrolls, and it was mentioned precisely in the Glorious Quran for the Prophet to be foretold by this very Name, Ahmed:

"And when Jesus the Son of Mary said, O children of Israel, verily I am the Apostle of God sent unto you, confirming the law which was delivered before me, and bringing good tidings of an Apostle who shall come after me, and whose name shall be Ahmed. And when he produced unto them evident miracles, they said, this is manifest sorcery. (The Noble Quran, 61:6)"

Prophet Jesus here has shed the light on the old Prophecy of the coming Prophet, Ahmed. So Ahmed was prophesied before Christ and also during Christ's lifetime.

This film was also taken from this Youtube Channel. As the author of the video said, look at the Aramaic alphabets in the Wikipedia link given, below. See how Hhet and Tav are written. They look very similar. See also how the Dalet and Khaf are written, and how they're similar. Now create your own "AHMAD" and "ETMAK" from these alphabets. Now, compare the two words, and see how similar they look. Compare the two words with the DSS by ignoring the vowels and accent ending. Which word look similar? Now read the whole chapter of Isaiah 42. And even if the DSS was not tampered with, was it written wrongly as the letters are very similar? The error could have gone back even before the DSS was written.

http://en.wikipedia.org/wiki/Aramaic_alphabet
http://www.ancient-hebrew.org/28_chart.html

Manuscript
http://www.ao.net/~fmoeller/qum-35.htm
http://dss.collections.imj.org.il/isaiah#42:3

Again, you can also read this 195-page PDF file [2] [3] in Arabic. I am currently working on translating all of it into English. It will be available soon, insha'Allah (if Allah Almighty is Willing).




2- Prophet Muhammad in the Bible and Old Scriptures [1]:



With this in mind, please now go through the following links:
3- Jesus will return as an Arab, not as an Israeli (or Israelite):
Again, the Bible declares in Matthew 24:25-27 that Jesus will return as an Arab, not a Jew:

Matthew 24:25-27
25 See, I have told you ahead of time.
26 "So if anyone tells you, 'There he is, out in the wilderness,' do not go out; or, 'Here he is, in the inner rooms,' do not believe it.
27

For as lightning that comes

from the east

is visible even in the west,

so will be the coming of the Son of Man

.

The Bible, throughout its books, has thoroughly defined the "East" to be the Arabs: [1] [2] [3].

Not only that, but as we've seen above, the Bible and the Dead Sea Scrolls also predicted the coming of Prophet Ahmed from the east. Ahmed is Prophet Muhammad's prophetic name, as we've seen above.

So why won't Jesus Christ return as a Jew from Israel? See the Islamic Prophecies about the ONE-EYED dajjal (anti-Christ).
Muslims and Islam before Prophet Muhammad:
This article was written by my dear friend Qais Ali (may Allah Almighty always be pleased with him). I have modified some of it, but most of it is from his work. You can also find the combined articles of this page at http://members.aol.com/IslamTeam/ac.htm.
Isaiah's vision:
Isaiah saw a vision of two riders.
Who was the rider upon the ass? Every Sunday school student will tell us that this was a prophecy of Jesus (peace be upon him), as stated in John:
but who is the promised prophet who would ride the camel? If it is not Muhammad (peace be upon him) then this prophecy has yet to be fulfilled. Let us read on...

Babylon did indeed fall before Islam and the Islamic nation under the guidance of Muhammad (peace be upon him) did indeed succeed in eradicating the worship of idols from Babylon replacing it with the worship of God alone. In fact, the Muslims were the only believers in the God of Isaiah to ever succeed in fulfilling this prophesy.
What does the word "burden" mean? Let us ask the Scofield Study Bible:
So the Muslims of Arabia (and subsequently Muslims everywhere) would be assigned the burden of God's message.
In "The Dictionary of the Bible," bearing the Nihil Obstat, Imprimatur, and Imprimi Potest (official Church seals of approval), by John McKenzi, we read that "Tema" is:
This word, Tema, is the name of the ninth son of Ishmael (the father of the Arabs), in Genesis 25:13-15 we read:
Strong's concordance tells us that this name was also applied to the land settled by Tema the son of Ishmael. It goes on to explain how this word is "probably of foreign derivation". Indeed, this word, Teima, is an Arabic word which means "Barren desert". It remains the name of a city in the Arabian peninsula just north of "Al-Madinah Al-Munawarah," or "Madinah" for short (Please see Map 1, page 491). Muhammad (peace be upon him) and his companions were given sanction to migrate. They departed Makkah during the night and left all of their possessions behind. Upon reaching Madinah they were greeted by its citizens with open arms and Muhammad (peace be upon him) assigned each one of the Muhajireen (citizens of Makkah) to one of the Ansar (citizens of Madinah) to house and feed them until they could strike out on their own. This became the first year of the Arab "Hijra" (Emigration) calendar used in Islamic countries to this day.
Kedar is the second son of Ishmael, the father of the Arabs:
Kedar is also synonymous with all of Arabia in general, as in Ezekiel:
The Arabs of Makkah, the capital of the paganistic tribes of Arabia of the day, were indeed defeated by the Muslims in the second year after their forced immigration from Makkah to Madinah (The Hijra). This victory signaled the turning point for Islam and a transition from a position of weakness to one of power and victory .
It should be pointed out here that, as mentioned at the beginning of this chapter, the children of Israel, from the tribe of Levi, were distinctly aware of this prophesy. Indeed this is the very reason why they had begun to immigrate from the lush and fertile pastures of their holy land of Israel to the barren parched deserts of Arabia, specifically to Madinah and the surrounding areas of Khaibar, Tema, and others. Because they knew that this is where the final prophet would appear. As mentioned above, these children of the Jews were constantly threatening the Arab inhabitants of Madinah (the tribes of Al-Aws and Al-Kazraj) with his impending arrival and how they would follow him and, through his leadership, they would utterly destroy these Arabs. They had hoped that this prophet would be from their tribe and that their presence in this location might facilitate this hope.
When their awaited prophet finally did come, they rejected him. They wanted a Jewish prophet from their own tribe and not an Arab from the sons of Ishmael. Thus, they allowed their pride to come between them and the truth which they recognized. However, their efforts were not totally in vain. So continuous were their efforts in threatening the inhabitants of Madinah with the final prophet's imminent arrival that when Muhammad (peace be upon him) finally did come, the inhabitants of Madinah immediately recognized him and hastened to follow him before the Jews. These inhabitants of Madinah would later become among those very first followers of Muhammad (peace be upon him) who would one year later go on to fulfill the prophesy of Isaiah by defeating the "mighty men of Kedar" in the very first battle of the Islamic nation, the battle of Badr.
As the prophesy requires, one year after prophet Muhammad (peace be upon him) and his followers escaped from the torture and persecution of the people of Kedar and emigrated to Madinah, the men of Makkah decided to once and for all put an end to Muhammad (peace be upon him) and his followers. They assembled an army consisting of 750 footmen and 200 horsemen, all of their very best fighters, and all very well armed. The leaders of this army consisted of the majority of the leaders of Kedar (see chapter ten). They were confident of victory and bragged that after this massacre they would be feared throughout all of Arabia.
The Muslims heard of this amassing of troops and prepared as best they could. They collected 313 footmen with two horses and seventy camels. The Muslims fought long and hard with the men of Kedar and were finally granted victory. This battle ended in the death of these leaders of Kedar and a resounding victory for the Muslims.
In this battle, only fourteen Muslims and seventy pagans from Kedar were killed. Twenty four of those who died from Kedar were their leaders. In addition, seventy others from Kedar were taken as prisoners and later ransomed back to their people (for more see chapter ten).
This was the great turning point for the Islamic nation. This battle could be said to have been the beginning of the end for the reign of idolatry and paganism within the land of Arabia. This Muslim nation would then go on to expand to many other nations until it spread from Spain to China, fulfilling many more prophesies in the Bible, including Daniel 2:44, Genesis 15:18-21, and many others.
An unfortunate misconception which has managed to creep into many Western beliefs is that Islam was only spread through force and the sword. Today, however, this notion is beginning to be recognized for the absurdity that it was. A Christian missionary, Sir Thomas W. Arnold says:
Muslims did indeed wage many wars, just as many Jews and Christians did both before and after this. Muslims waged their wars in self-defense or in order to abolish idolatry, tyranny, slavery, and oppression. Muslims were commanded to not attack those who did not attack them, to not cut down a fruit tree, to not kill the animals, to not take the people's property, to not harm women or children or old people so long as they did not fight with them, and to not burn crops.
When they were victorious, the Muslims were commanded not to destroy the churches nor the synagogues, nor to force the people to convert to Islam. The people were allowed to continue to practice their religion without persecution or being forced to convert (Compare for example with Numbers 31, and Deuteronomy 20. Please also compare with the great Spanish inquisitions).
If Islam was indeed spread by the sword and not by its spiritual appeal, then how do we explain, for example, the fact that Islam is the religion of the majority of the people of the country of Indonesia even though no Muslim army ever set foot on their land and they can by no stretch of the imagination be labeled as Arabs? The only contact these people ever had with Islam was through Muslim traders who passed through their lands.
If the truth were to be known, in almost every single battle the Muslims ever participated in, they were almost always vastly outnumbered. For example, when the Muslims finally overthrew the pagan Byzantine superpower in the battle of Al-Yarmook of the year 636 C.E., the Muslim army consisted of 40,000 fighters verses 200,000 solders in the Byzantine army. So although many historians may like to attribute the fall of this superpower to any number of factors such as claiming that they were taxed and weary from previous battles with the Romans, (while not claiming that the Muslims were taxed and weary from their previous battles), and although they refuse to believe that this victory could have come from the Almighty, still, one needs to wonder if this victory were not through divine intervention then how do we explain the fact that an ill-equipped army of Bedouin sheep herders who were outnumbered more than four to one could so resoundingly defeat one of the two "superpowers" of their age?
Back to Muhammad peace be upon him in the Bible.
Jesus' Original Name:
Prophet Jesus' original name was Isa (eesa) as shown below. Even in Latin, it is Iesu, and in Greek it is Iesus. In Arabic, it is Isa (eesa). It is literally pronounced as Eesa in Arabic. There is a great deal of evidence that Jesus spoke and preached also in Arabic. Not only that, but Greek wasn't even that popular in Palestine. Islam's claims are very strongly supported. See proofs below.
Did early Christians preach Prophet Muhammad in Rome?
Did the early believers preach Prophet Muhammad in Corinth, Antioch, Rome and all other places? Prophet Jesus, peace be upon him, was the Jews' Messiah and final Prophet. In both the Glorious Quran and the Dead Sea Scrolls, Ahmed was prophesied to come. Ahmed in the Quran is Prophet Muhammad's prophetic name. Also, see below the Dead Sea Scroll image. The New Testament too predicts the coming of three:
1. Elijah.
2. The Messiah.
3. The Prophet.
John 1:19-21 and John 7:40-44. Click on the images to expand: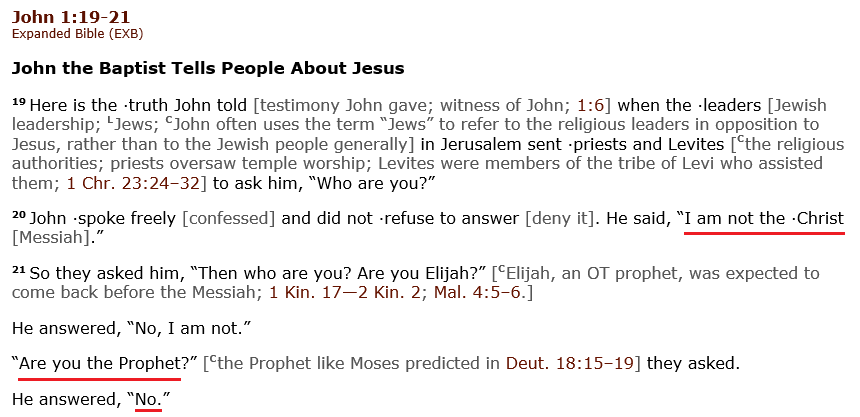 So did the early believers preach the coming of Prophet Ahmed or Muhammad? The answer is quite possible, but Muhammad would've been phase 2 for them and not phase 1. Jesus was the early believers' immediate Prophet, not Muhammad. And all of the details that they had were about Jesus, not Muhammad. It is also important to know that the following seven Roman Emperors have thoroughly burned all of the early believers' writings:
1. Nero (54-68)
2. Domitian (81-96)
3. Marcus Aurelius (161-180)
4. Septimius Severus (193-211; up to a point)
5. Maximinius I Thrax (235-8; up to a point)
6. Trajanus Decius (249-251)
7. Valerian (253-260)
Read all the details with references here.
What we have today from "gospels" and "New Testament" were written 80 years to 300 years after Jesus' departure from this earth. So, the current writings that we have are not original writings. Also, to appease the Roman Empire's 3-headed pagan religion and practices, the pagan 3-headed trinity was invented [1] [2] [3] [4] [5]. Many lies had been fabricated after the original writings were all lost. The Jews and Christians of Arabia, however, did have writings that predicted the coming of Prophet Muhammad. These were some of the original texts that survived: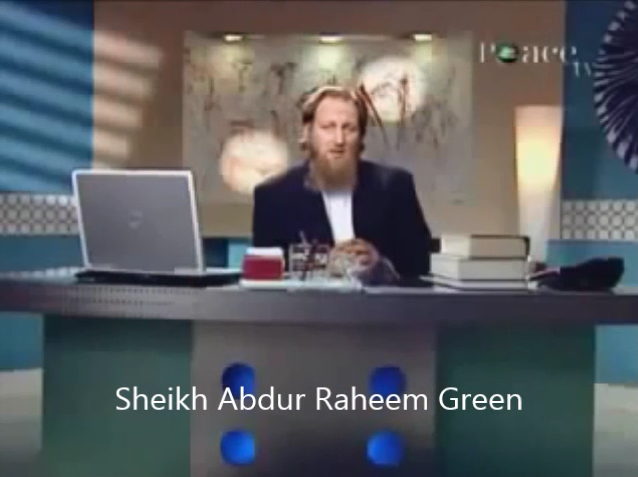 (Video & text are in this linked section)
Jesus also preached in Arabic:
See the clear proofs in the following:
Prophet "AHMAD" is found in the Dead Sea Scrolls: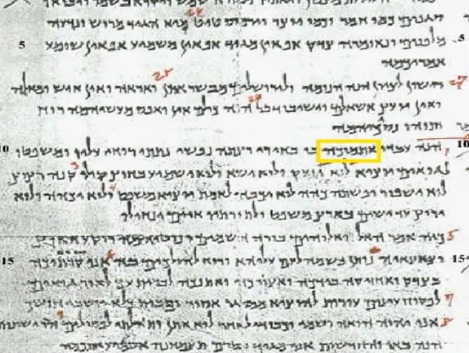 (Film in this article)

Prophet Muhammad in the previous Scriptures. Prophet Muhammad was thoroughly foretold in the Bible, and his prophetic Name, "Ahmed", was also found in the Dead Sea Scrolls, and it was mentioned precisely in the Glorious Quran for the Prophet to be foretold by this very Name, Ahmed [1] [2].
---