Who was the sacrificed son?
[1] [2]
Here is the short answer:
From https://www.answering-christianity.com/blog/index.php/topic,3150.msg15747.html#msg15747:
Can anyone prove from bible that hazrat ismail (a.s.) was in Arab and Ibrahim (a.s.) was about to slaughter him?
Both the Bible and the Glorious Quran agree that:
1- Ishmael's covenant was put on hold (pause) until the Jewish covenant comes to pass, and the latter generations come:
2- Ishmael's name means the GOD finally heard the Prayer. Ishmael's name is a great proof that he was the sacrificed son. He was born after long decades of frustration and long waits. He was born after a long time of decades of desperation. Isaac would not have been that big of a deal relatively speaking, because Ishmael was already born, and the long horrid desperation was long gone. And Ishmael at the time was his only son, and for a long time too. Ishmael was 13 years older than Isaac. Peace be upon them all.
The challenge wasn't just for Abraham to give up his son for GOD Almighty. Any mere person can do this, even to pagan deities:
[006:137] Even so, in the eyes of most of the pagans, their "partners" made alluring the slaughter of their children, in order to lead them to their own destruction, and cause confusion in their religion. If God had willed, they would not have done so: But leave alone them and their inventions.
While it was a test for Abraham to give up his son for GOD Almighty, but I believe it was also more of testing Abraham to give up what he longed for, and was desperate for, for many decades. And it was also to honor Ishmael, the Prophet of Allah Almighty. Peace be upon Abraham and his sons.
It matters not:
Let me make it absolutely clear that Islam does not stand and fall on:
(a)- Whether Ishmael was the sacrificed-to-be son or not.
(b)- Or whether Abraham and his children were Arabs or not.
None of this matters in Islam. We are only presenting what the Glorious Quran confirms here. If Isaac was the sacrificed son, then it wouldn't matter. We still say Peace be upon all of Allah Almighty's Prophets and Messengers. And Isaac was certainly one of them, and we love Isaac and revere him as much as Ishmael and all of Allah Almighty's Prophets. Peace be upon them all.
And again, ethnicity has nearly no value in Islam:
[049:013] O mankind! We created you from a single (pair) of a male and a female, and made you into nations and tribes, that ye may know each other (not that ye may despise each other). Verily the most honoured of you in the sight of God is (he who is) the most righteous of you. And God has full knowledge and is well acquainted (with all things).
This Noble Verse is not just to Muslims, but to all humans. For more details, please visit:
www.answering-christianity.com/islam.htm
www.answering-christianity.com/convert_christians.htm
www.answering-christianity.com/ac22.htm#links
www.answering-christianity.com/ac23.htm#links
Also Visit:
3- The Jews' accounts and the Bible's credibility are a joke! The Jews fabricated many lies. Ironically, their accounts even admit this.
I have thoroughly proven the above points at:

www.answering-christianity.com/isaac_and_ishmael.htm
www.answering-christianity.com/isaac_and_ishmael.htm
www.answering-christianity.com/jews_from_essence_liars_bible_declares.htm
www.answering-christianity.com/deuteronomy4_2.htm
www.answering-christianity.com/predict.htm
Quran Miracle: The Jews' and Christians' scribes changed and still change the Words. Proven with images, text and videos from their corrupt bible and books! See how they removed words and altered words.
As to Ishmael being an Arab, again, it matters not. But if you care to know, Abraham, Ishmael and Isaac's father, was from Iraq. Most Iraqis are Arabs. Assyrians and others are a minority. And even Assyrians and Kurds and others speak Arabic, and their bloods are mixed with Arabs. Arabic had always been the dominant language in the Middle East and North and Central Africa for 20,000 years, if not even more. And it's the language of the Holy Quran, Allah Almighty's Perfect and Miraculous Book with 1000s of Numerical and Scientific Miracles [1], and also Prophecies [2]. See literally the 1000s of STUNNING Miracles are listed here. Also visit:
But again, it matters not to Islam what ethnicity Abraham was.
Take care,
Osama Abdallah
The following is the detailed answer....
1- Who was the sacrificed son?
Ishmael's Covenant was made for the latter generations according to both Islam and the Bible. Let us look at Ishmael in great details:
2- The Bible's Support for Ishmael:
Even in the altered Bible, there is strong evidence that support that Ishmael was the son to be sacrificed. Ishmael's name means "GOD Heard", which implies:
•Ishmael was 13 years older than Isaac, and •Noble Verse 37:102 supports that Ishmael was a teenage boy:

Ishmael was put on PAUSE until the Covenant of the Israelites comes to an end:
Are you the Prophet?

In the OT, "the Prophet" will come from

"their brothers" (the Jews' brothers). The Ishmaelites are the brothers of the Israelites. Also, a plethora of Prophecies in OT and NT that speak about this Prophet to be a Gentile, and will come from the Southern Lands, and from the Lands of Kedar and Teman (all in Saudi Arabia), and the House of GOD will be established in the deserts of Kedar:

Muhammad in the NT.
Muhammad in the OT.

John 1:19-21 John was asked if he were the Messiah, Elijah, and then "The Prophet": John 1:21.
John 7:40-44, Jesus was supposed to come from David's line, while the Prophet was NOT. He was a foreigner.

Here are two captured images of John 1:19-21 and John 7:40-44. Click on the images to expand: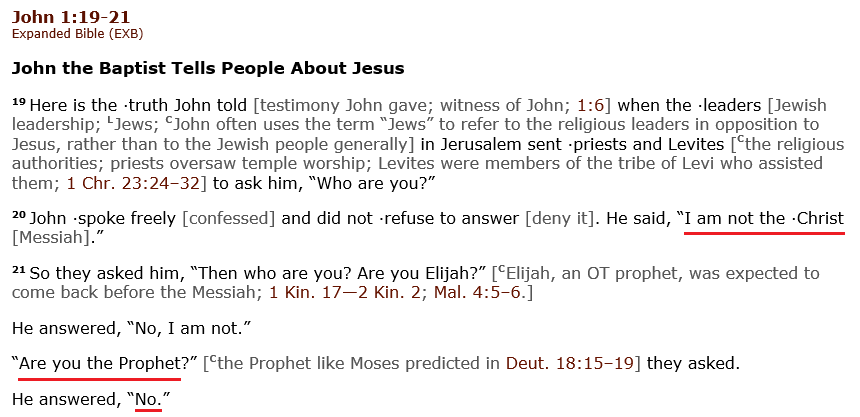 Click to expand.

The awaited Messiah and the awaited "the Prophet" were clearly two different persons, who are strangers to each others, and are not from the same bloodline. Also, both the Bible & Quran declare: Ishmael's Covenant is for the latter generations.
The Prophecy also says GOD will come from a far southern land [1], and from Teman and Paran [1] (both are in Saudi Arabia).
House of Jacob must follow him:
Know also that the entire "House of Jacob", in Isaiah's prophecy, was commanded to follow this Servant-to-come from the deserts of Arabia [1]. Isaiah 41:8-13 [Early Christians knew about Islam]: GOD Almighty assures the House of Jacob that they are still loved and chosen by GOD Almighty. "Do not be afraid (of this Servant)." Never was this said for an Israelite Prophet. THE ENTIRE HOUSE OF JACOB were commanded to not be afraid of him, because he will be a NON-ISRAELITE Prophet.
Visit: www.answering-christianity.com/predict.htm to see Prophet Muhammad prophesied in the Bible and outside in ample passages. Prophet Muhammad was even mentioned by the name in the found Dead Sea scrolls: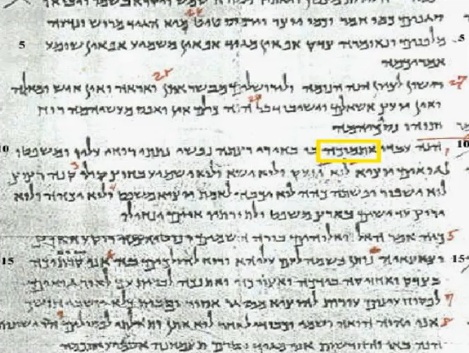 From www.answering-christianity.com/jesus_problematic_hyperboles.htm:

4- This generation riddle or lie:

Another riddle or lie?

Matthew 24:34 "Verily I say unto you, This generation shall not pass, till all these things be fulfilled."

This prophecy is a lie and was never fulfilled. Jesus' promised colossal-events about this generation will not pass until all of them happen, and the people will then see him return as king, after his departure, never happened. See all of the details here.

Sent only to Israel?

Another absolute statement or lie, or both?

Matthew 15:24 "He answered, "I was sent only to the lost sheep of Israel.""

But he wasn't sent to just ONLY the Israelites, was he? Or was he really as his riddle in Matthew 24:34 above suggests about "this generation"? Was Jesus' mission from its A to its Z was only for "this generation" that he was in and nothing else? Was he only a hub between the Jews and the upcoming Islam as the Glorious Quran says:

"And when Jesus the Son of Mary said, O children of Israel, verily I am the Apostle of God sent unto you, confirming the law which was delivered before me, and bringing good tidings of an Apostle who shall come after me, and whose name shall be Ahmed. And when he produced unto them evident miracles, they said, this is manifest sorcery. (The Noble Quran, 61:6)"

Ahmed is Prophet Muhammad's prophetic name in Islam.
Islam is the Divine Truth:
Islam is GOD Almighty's Divine Truth. To be 100% sure about this, visit:
For ample more passages, visit:
The Pilgrimage to the House of GOD in Arabia Prophecy in the Bible:

3- Abraham had no child for almost 100 years. He was completely barren:
Abraham was very desperate for a son. Ishmael was the greatest gift from GOD Almighty to Abraham. This is why Abraham named him GOD finally Answered my Prayer. GOD Almighty put Abraham to the ultimate test by Commanding him to slaughter this precious son. Abraham obeyed GOD Almighty by attempting to slaughter his son, Ishmael. Ishmael too was true to his promise. He never resisted, nor disobeyed. He was willing to get slaughtered for the Will of Allah Almighty. GOD Almighty saved Ishmael at the last minute, and Commanded Abraham to slaughter a ram instead.
4- The corrupt Jewish books say it was Isaac:
But the name "ISHMAEL" really exposes their lies and gives it all away! The name clearly suggests that Abraham was MOST DESPERATE with Ishmael, and hence, Ishmael's test would've been FAR GREATER than Isaac's. Isaac was the second son, and 13 years younger. The Jewish Law gives double the inheritance to the OLDEST SON when the father dies (Deuteronomy 21:17).
This is not a war between Ishmael and Isaac. In Islam, we honor all of the people of Israel's Prophets and Messengers of GOD Almighty. Peace be upon Abraham, Ishmael and Isaac. And peace be upon Hagar and Sara. Again, please visit:
Again, please visit: Ishmael was put on pause until the Israelites' Covenant passes. See slides 32-38. Both the Bible and Glorious Quran agree on this.
"El" in names as in Ishmael was common among the Jews. Is the GOD of Islam different? Allah Almighty allowed for His Holy Name to be shortened as "El" in Ishmael, and Lillah for Li-Allah in the Quran, as in Alhamdulillah in both Islam and Judaism.
5- Is Elohim Allah? [1, *] [2] [3]
The "im" in Hebrew is a majestic plural for GOD Almighty. The root Word is "Eloh". And the more original Jews such as Yemenites and others say Alohim or Alah-im. And when you yourself pronounce it, you do naturally pronounce it with a double "l": Allah. Jews do call Him: Allah-im. Aramaic-speaking people also call GOD Almighty Allah. See the following videos for Biblical references and proofs. Also, pre-Islamic Biblical archeological findings have GOD Almighty as "Allah". So the Original Holy Name for GOD Almighty is not Eloh. It is Allah! Eloh is a Hebrew dialect, which not all Hebrew speakers use anyway. Allah had always been the Original and Universal GOD Almighty even before birth of Judaism, and the existence Hebrew. And Hebrew is a developed language from Phoenician. See the following links:
http://en.wikipedia.org/wiki/Phoenician_alphabet
http://en.wikipedia.org/wiki/Biblical_Hebrew
6- What about "EL"?

•
"El" was a shortened name for Allah (ALIF, LAMED, LAMED, HEY) In Hebrew.
Watch above vidoes.
•
Allah is also spelled out with ALIF, LAMED, LAMED, HEY in Hebrew to be GOD.
•
Allah Almighty allowed for shortening of His Holy Name and Titles for the Jews. This is where you get Ishmael, Garbriel, Ezekiel (short for Allah). This is also where you get Hallelujah, Netanyahu (short for Yahuwah, or Yahweh)
•
Islam also has shortened Name for Allah Almighty.
–
Alhamdulillah is short for
Alhamdu li Allah
.
Visit: