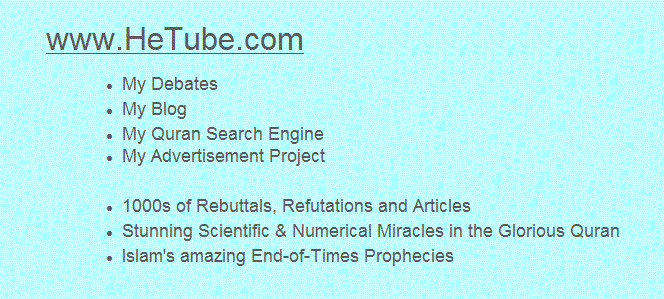 Search and find articles and topics quickly and accurately! See different advanced ways to search for articles on this site.
Also Visit:
The Bible's Sacred Black Stones
Bible's Sacred Lunar Festivals
Gambling allowed in Christianity
Jesus, Isa (eesa): Which one is the original name in Hebrew and Aramaic?
Did the Noble Quran really say that the sun sets and rises on the earth? Dhul Qarnayn's story.

In 2 Samuel 12:7-12, King David's wives were turned into ***** prostitutes by GOD Almighty ***** as a punishment for David's sins with Bathsheba. This means that GOD Almighty can create custom Laws for punishment even if they fully contradict GOD Almighty's Moral Code on morality and chastity. Also, seduction and raping of virgins isn't a physically punishable crime in the Bible in Deuteronomy 22:25-29, Exodus 22:16-17.
Rebuttals to FaithFreedom.org web site:
Muslim web sites www.faithfreedom.com and http://icssa.org/alisinaface.html and www.faith-freedom.org are also dedicated to refuting the anti-Islamic site. The following articles give ample refutations and expositions to the infidels' website:
Ali Sina and his clowns hit Rock Bottom of their Stupidity.
The Shooting Stars (Shahab) Quran Miracle is confirmed by Science! This is indeed one of the Glorious Quran's Top Stunning Miracles! The Gamma Ray Bursts and Cosmic Jets affirm to the Truth of Noble Verse 67:5 and the other ample Noble Verses in the Glorious Quran, that I provided in the article. Also, the Miracle of Copper in Noble Verse 55:35 is also thoroughly confirmed with 10s of pictures, references, quotations and proofs from ample Scientific sources.
In response to Ali Sina's article "The World's Greatest Showman": "World's Greatest Jester". A 118-page rebuttal!
Does Dr.Zakir Naik Really Fool the audience? A thorough and detailed rebuttal by brother Yahya Ahmed.
Point-by-Point Response and Summary of My Rebuttal to Ali Sina.
Ali Sina calling for the mass-slaughter of all the Muslims in the world. Also see this captured image.


*** Message to Ali Zina, Islam is winning, and you are losing, get over it.
Fake or Real? - Supposed testimonies of Muslims leaving Islam on Ali Zina's site.
Ali Zina does it again! Yes, he makes a joke and a fool of himself!
Ali Sina breaks at least half of his forum's rules.
More foul rubbish from Ali Sina.
Why we call the FFI web site rubbish.
Rebuttal to Faith Freedom: Muhammad is not predicted in Hindu scriptures.
Rebuttal to Ali Sina's article "Why be good if there is no afterlife?"
Abul Kasem is no better than Doctors.

Counter Rebuttals:
Back to Rebuttals, and exposing the lies of the Answering Islam team section.
---